Jumping the gun? RAF already secretly trained to hit ISIS in Syria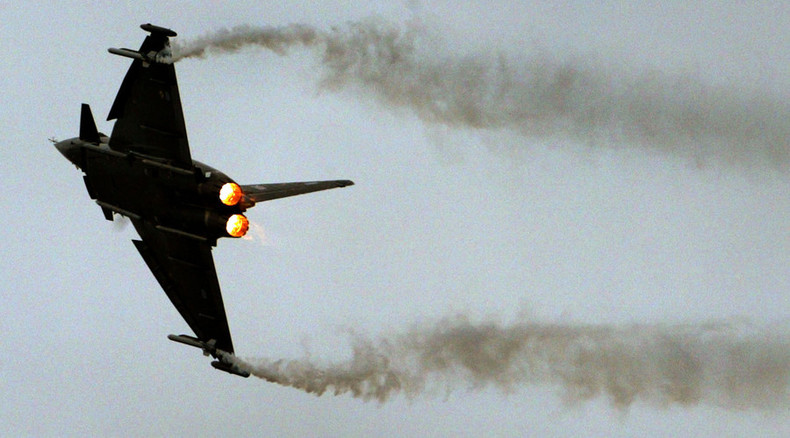 Royal Air Force (RAF) aircrews have already secretly trained to bomb targets in Syria in the event of a vote on extending UK airstrikes, currently limited to Iraq, into its war-torn neighbor.
UK pilots embedded with foreign air forces have already been hitting targets within Syria's borders, while Special Forces and drones are already deployed to engage Islamic State (IS, formerly ISIS/ISIL).
The RAF commander leading the UK's bombing campaign had revealed the military's plans to bomb Syria should a parliamentary vote in favor of escalating the war take place.
"We would be doing exactly the same job as we are doing in Iraq in a different piece of airspace," Air Commodore Martin Sampson told the Times newspaper.
"The target is the same: ISIL. We are very well versed at striking them … and we would do exactly the same thing in Syria."
"The Tornado crews are ready to execute the mission wherever the politicians deem it necessary," he added.
Sampson said preparations had already been underway in secret and that "being good military people, we have planned ahead … we have trained.
"We know what the situation could be, is likely to be: therefore, if we get ordered to do it we will do it. I am very confident that my guys are ready."
One unnamed pilot described his frustration at seeing other air forces crossing the Syrian border while British jets remain limited to Iraq.
"We can see American jets just passing back and forth across the border," he said.
Russian jets have also been carrying out airstrikes, to the chagrin of the US and its allies who, when bombing began in early October, warned that Russian involvement would bolster support for IS.
On Thursday the Russian Defense Ministry reported the Russian Air Force had attacked 72 IS targets in Syria in 53 sorties within the past 24 hours.
READ MORE: Combat report: Russian Air Force carries out 53 sorties, strikes 72 terrorist targets in Syria

The Russian Air Force attacked militant positions in the Syrian provinces of Hama, Idlib, Latakia, Aleppo, Damascus and Deir ez-Zor, Major General Igor Konashenkov said in a statement.
"I'd like to draw your attention to the increased efficiency of Russian airstrikes on terrorist installations. Russian jets used to work in pairs, but now there's no need for that since our pilots have explored the location and are capable of hitting two targets at a time on their own," Konashenkov said.
LISTEN MORE: