UK-China nuclear deal 'dangerous,' creates target for terrorists – CND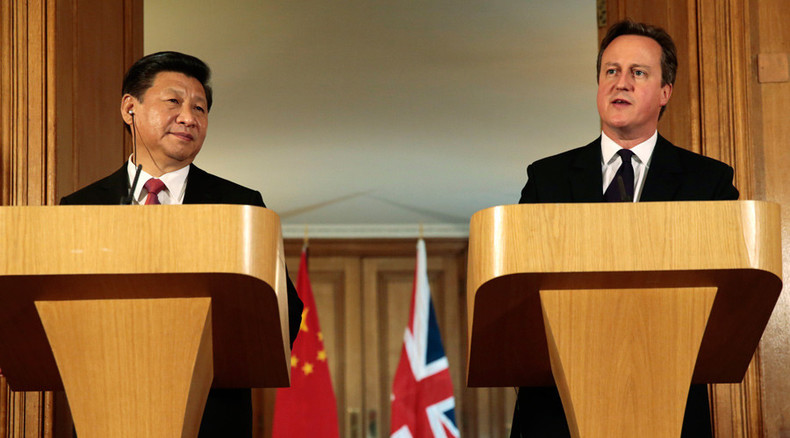 Anti-nuclear campaigners have condemned a deal signed between the UK and China on Wednesday to finance two nuclear power stations in Britain, branding the project "dangerous."
The Campaign for Nuclear Disarmament (CND) warned that the construction of new nuclear plants would create a target for terrorists and increase the likelihood of nuclear proliferation, as the uranium could be used to develop weapons.
Chinese President Xi Jinping signed the £40 billion ($62 billion) deal with Prime Minister David Cameron in Downing Street on Wednesday, crowning a four-day state visit to London which Chinese and UK officials have described as the start of a "golden era" between the two countries.
The agreement will see Chinese state-owned General Nuclear Corporation (CGN) take a one-third stake in the £18 billion ($28 billion) construction of Hinkley Point C nuclear plant, majority controlled by French state-owned EDF Energy.
CGN will also own two-thirds of the Bradwell nuclear power facility in Essex, where UK ministers have given the green light to design and build its own nuclear reactor, and a one-fifth stake in a project for Areva-designed reactors at Sizewell plant.
In order to attract investment in the projects, the government put a price support mechanism in place to guarantee a minimum electricity sale price of £92.5 per megawatt-hour – twice the current market rate.
Anti-nuclear campaigners slammed the multibillion-pound deal, which has come at a time when the British government is removing subsidies for renewable energy.
In a statement, CND General Secretary Kate Hudson said the agreements were the "wrong" deal for the 21st century.
"International agreements should promote co-operation on climate change and security – this deal does precisely the opposite," she said.
"Nuclear power is expensive, a source of greenhouse gases, and a target for terrorism. Nuclear power also makes the proliferation of nuclear weapons far more likely. As the supply of enriched uranium increases, the possibility of using uranium to develop weapons is made easier.
"The alternative is clear. Renewable sources of energy are clean, they create more jobs, and they're sustainable. The future for nuclear power, however, is bleak, with experts predicting that we will run out of easily accessible uranium in 50 years' time. Investing in renewables now will provide us with sustainability and security long into the future," Hudson said.
Intelligence sources also criticized the deal for prioritizing business over national security, expressing particular concerns that China could hide "trapdoors" in the computer systems which could allow them to gain control of the nuclear plant.
"The Treasury is in the lead and it isn't listening to anyone – they see China as an opportunity, but we see the threat," a security source told The Times last week.