Down to business: Cameron, Xi Jinping hold billion-pound trade talks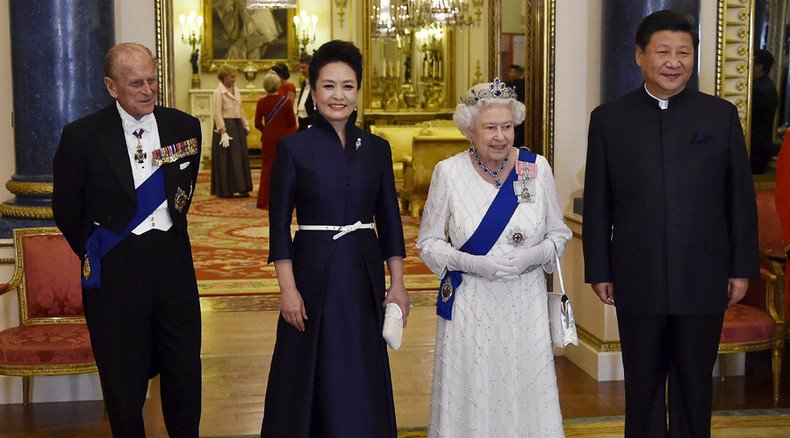 Prime Minister David Cameron will host talks with Chinese President Xi Jinping in the hope of securing billions of pounds worth of trade deals with China during the head of state's four day visit to the UK.
The pair are expected to confirm Chinese investment in Britain's first nuclear power plant in a generation at the Downing Street talks, which the government hopes will amount to £30 billion (US$46.4 billion) worth of trade agreements.
The fawning welcome of Xi, however, has been criticized by a former adviser to the prime minister, who called Buckingham Palace's grand banquet in the Chinese premier's honor a "national humiliation."
Former Director of Strategy Steve Hilton said the UK should not be "kowtowing" to China, but imposing sanctions against a country riddled with a dark human rights history.
He also argued China is responsible for "dumping" cheap steel in the UK which has led to the culling of thousands of British jobs.
Downing Street has rebuffed the claims, saying no topics will be off limits when the pair meets over the next few days.
On Tuesday evening Xi was welcomed to the UK with a ceremonious banquet, attended by members of the royal family and senior politicians.
Having previously threatened to raise China's human rights record at the dinner, Labour Party leader Jeremy Corbyn held a private meeting with Xi before the banquet.
The leader of the opposition raised a number of concerns, including the steel crisis and China's human rights record.
On the cards at Wednesday's trade meeting is the new nuclear power station at Hinkley Point. It is speculated the Chinese will own one third of the plant, which is expected to cost £24 billion to build.
Other trade initiatives include a £325 million collection of partnerships which focus on creativity and technology and include a deal with Aston Martin and China Equity to produce a zero-emissions car.
Business Secretary Sajid Javid heralded the newfound trade partner.
"Global partnerships are essential in building a Britain that is stronger, more prosperous and full of opportunity.
"Deals like those announced today will ensure our economy remains resilient and our businesses feel well-equipped to face the future," he added.
But Hilton issued brutal rebuttal on BBC Newsnight, on which he told the audience China is a "rogue state" and called the visit "one of the worst national humiliations we've seen since we went cap in hand to the IMF in the 1970s."
"The truth is that China is a rogue state just as bad as Russia or Iran, and I just don't understand why we're sucking up to them rather than standing up to them as we should be," he said.
"I think that we have to be much tougher – I think that we should consider sanctions on China, not rolling out the red carpet."
You can share this story on social media: