UK rolls out lavish welcome for Xi Jinping's watershed visit after US flop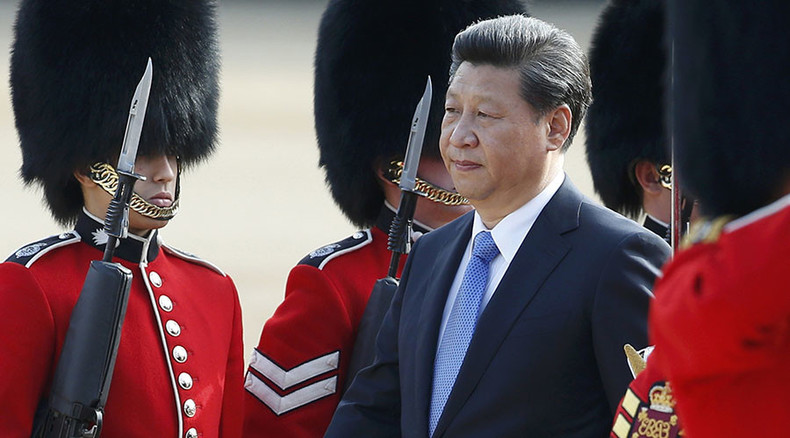 Chinese President Xi Jinping was met with pomp and pageantry as he kicked off his four-day tour of the UK, the first visit by a Chinese leader to the country in a decade and one which is expected to lead to billions of pounds in trade and investment deals.
The leader of the world's largest communist state and his wife, renowned folk singer Peng Liyuan, arrived at Heathrow Airport on Monday evening for a visit that Prime Minister David Cameron called "an important moment" for bilateral relations.
Red carpet welcome
Xi was met with a 41-gun salute in Green Park on Tuesday morning after being greeted by the Queen, the Duke of Edinburgh and Prime Minister David Cameron, as well as other dignitaries and military top brass. Over 1,000 troops were involved in the welcome parade for the Chinese leader.
Xi then accompanied the Queen in a royal carriage to Buckingham Palace, where he and Peng will be staying while in London.
A lavish state banquet with several members of the Royal Family is planned for Tuesday night. Notably, Prince Charles, a vocal supporter of exiled Tibetan leader the Dalai Lama, will not be at the event, though he has not given an official reason for his absence.
Tilt toward China
The Treasury has said China is expected to overtake the US as Britain's second-largest trading partner within 10 years.
Dismissing critics who accuse Britain of kowtowing to China, Foreign Secretary Philip Hammond told the BBC it is "very much in our interest to engage with China."
"I think we are developing a mature relationship with the Chinese," he said. "They know that we are looking not just to China but to many other countries for infrastructure investment in the UK."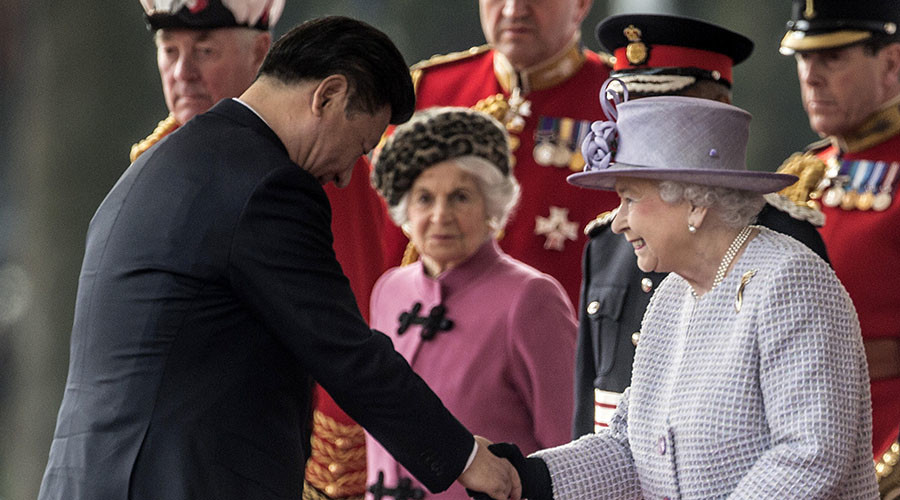 The government says that a more robust Sino-British relationship will "unlock" £30 billion worth of new trade and investment deals and create over 3,900 jobs throughout Britain in sectors ranging from creative industries to aerospace.
"This is going to be a very important moment for British-Chinese relations," Cameron said. "Trade and investment between our two nations is growing and our people-to-people links are strong."
Though Downing Street has not yet published a full list of topics to be discussed between Cameron and Xi during an official meeting on Wednesday, a spokesperson for the PM said "nothing is off the table."
Cameron promised the House of Commons on Monday to address China's subsidized "steel dumping" onto global markets, which industry leaders have blamed for plummeting steel prices and thousands of job cuts throughout UK's steel sector, including the SSI plant on Teesside that was closed down in recent weeks due to falling steel prices.
A landmark deal securing China's partial ownership of the nuclear power plant at Hinkley, Somerset, was announced hours before Xi's arrival in Britain. An accord about China's role in constructing nuclear plants Sizewell and Bradwell is also on the agenda for discussion between the leaders.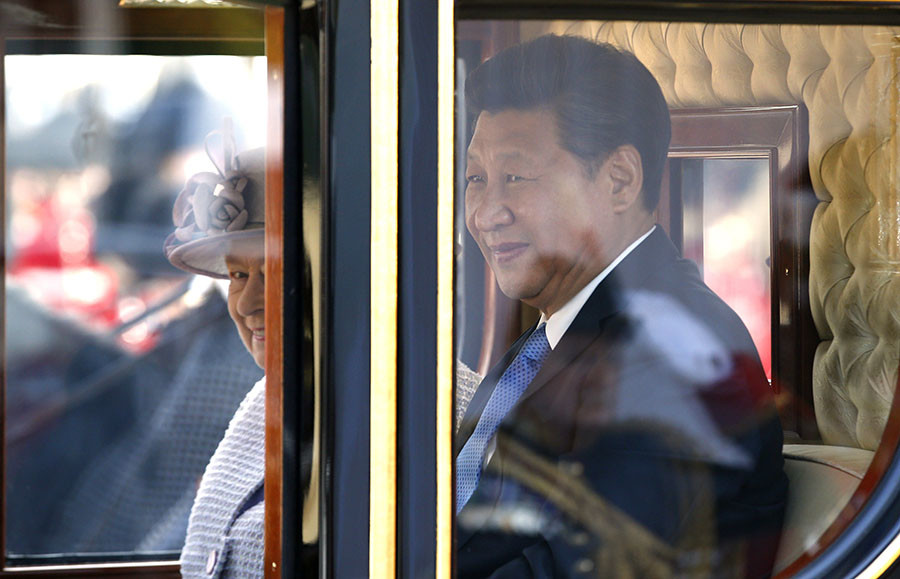 Low-key US visit
Compared with the extravagance of his UK trip, Xi's six-day cross-country US visit earlier this fall drew significantly less fanfare. The Chinese leader delivered a keynote address to business executives and held a private meeting with President Barack Obama.
Xi's trip coincided with Pope Francis's much publicized visit to the States, as well as the announcement of Speaker of the House John Boehner's resignation, and was somewhat eclipsed by the resulting media frenzy.
Addressing world leaders at the UN headquarters in New York during his stay, Xi tried to showcase China's commitment to the empowerment of Chinese women but left UN leaders unconvinced.
Panting puppy or equal partner?
Members of the anti-Beijing Free Tibet group as well as Amnesty International and other Chinese dissident groups held protests against China's human rights records as Xi attended the flashy ceremony outside of Buckingham Palace.
Xi's critics point to the recent crackdown on opposition figures, lawyers and activists in China.
"China has a government where there are more executions in that one country than in the rest of the world combined, a government that has recently arrested 245 lawyers who have been working for ordinary people against the state and its corruption," Amnesty International told the Guardian at Tuesday's protest.
Meanwhile, thousands of pro-China supporters took to the streets, unfurling banners to welcome the communist leader.
Others have panned Britain's supplication to China, with James McGregor, chairman of consultancy group APCO Worldwide's Chinese operations, warning: "If you act like a panting puppy, the object of your attention is going to think they have got you on a leash."
LISTEN MORE: