Man charged after Islamophobic bus abuse footage goes viral (VIDEO)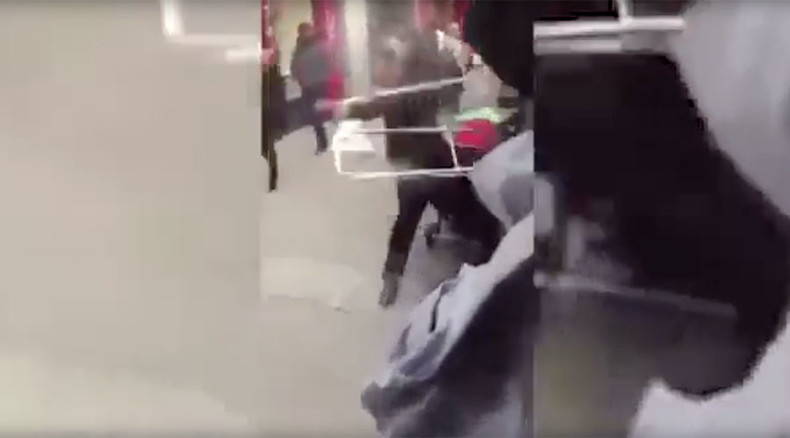 Footage has emerged of an aggressive father with a stroller shouting Islamophobic taunts at an elderly Turkish man with a walking frame on a bus in north London. The offender has been charged with a racially aggravated public offence.
The video, which has gone viral on social media, shows Kashif Samuels, 25, verbally abusing and taunting his victim on Saturday.
'Go back to your country'
With his baby beside him, the offender told the elderly man to "go back to your country."
"That's why you're here mate – free benefits and a walker. Well your walker is going to go flying when this bus stops, mate.
"I'll shove a pig's c in your mouth, what's f*** Allah going to say about that? Put you on a page with Big Dave."
When the elderly man tried to defend himself, the offender interrupted him and mocked his accent.
"You're talking in a different language, but nobody knows what you're saying," he said.
"Go back to Turkey if you talk that s. Oh no, you can't, because s gets blown up in Turkey," he added.
No one on the bus appears to have helped the victim. In the middle of the footage a woman is heard laughing.
Soon after, the 25-year-old man gets off the bus and throws his victim's walking aid down the street before walking away.
'Arrested'
On Tuesday, the Metropolitan Police confirmed that a man, believed to be the offender, had been arrested.
"A 25-year-old man attended a north London police station on Monday evening. He was arrested on suspicion of a racially aggravated public order offence," a spokesperson said.
"He remains in custody at a north London police station."
He is due to appear in custody before Highbury Corner Magistrates' Court on October 26.
Commenting on the incident, Transport for London (TfL) buses chief Mike Watson told The Independent: "This type of behavior will not be tolerated on our network. Our passengers must be allowed to travel without fear of verbal or physical assault – we will provide the police with every assistance as they investigate this totally unacceptable incident."
'Islamophobia on the rise'
This comes just a week after a mother-of-three was arrested for branding a group of Muslim women "ISIS b******" and telling them to "talk your own language" on a bus in northwest London.
These shocking cases suggest Islamophobic crime is on the rise.
According to Metropolitan Police (MPS) statistics released in September, Islamophobic crimes in London have risen by 70 percent in the past year.
Figures for the 12 months to July showed 816 Islamophobic crimes, compared with 478 for the previous 12-month period.
Furthermore, figures obtained by RT in May show racial and religious hate crimes in the UK increased from a total of 15,249 to 17,605 between 2012 and 2014.
Last week, Prime Minister David Cameron said anti-Muslim hate crimes will be treated as seriously as anti-Semitic attacks.