Xi visit: Nobel-winners urge Cameron to raise case of Chinese laureate Liu Xiaobo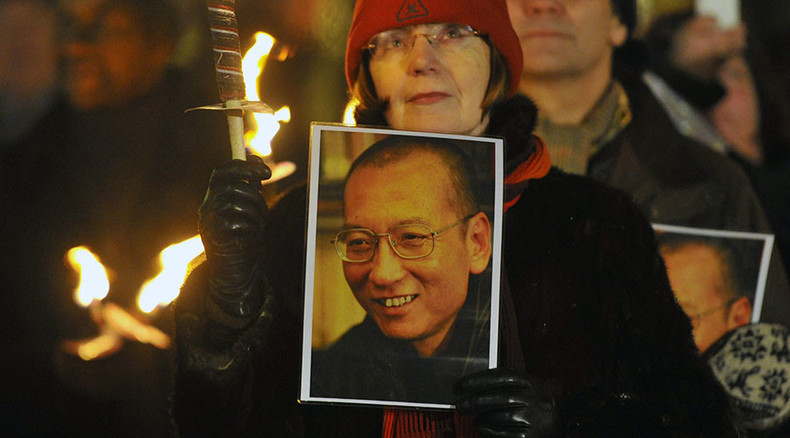 Twelve winners of the Nobel Peace Prize have written to Prime Minister David Cameron urging him to call publicly for the release of Chinese fellow laureate Liu Xiaobo and his wife Liu Xia during the Chinese president's visit to London.
President Xi Jinping arrives in London on Tuesday amid protests against China's human rights abuses and restrictions on freedom of speech.
Cameron and Chancellor George Osborne are expected to use the trip to strengthen the UK's economic and business ties with Beijing.
The letter, signed by 12 laureates and engineered by South African Archbishop Desmond Tutu, was sent to Cameron on September 2, the advocacy group Freedom Now said.
Liu is an academic and writer who called for the end to single party rule in China. He is currently under house arrest as a political prisoner.
"We believe that unless leaders like you take urgent action, both publicly and privately, that China will continue to believe it can act with impunity and without consequence for its behavior," the letter reads.
The group sent a similar letter to US President Barack Obama before the Chinese leader visited Washington in September this year. Obama did not bring up the issue.
The letter says the health of Liu's wife Xia has declined "precipitously" during the past year. Signatories say she should be allowed to travel abroad to find adequate treatment.
Amnesty International and other advocacy groups are protesting against the welcome of President Xi on Tuesday morning in the Royal Parks near Buckingham Palace, where he will be greeted by the queen.
They are demanding democratic reform and freedom for Tibet.
Their protest has been met with a pro-China counter protest, which has been banned from using traditional drums to drown out the anti-China camp in order to keep within the noise regulations of parks.
A spokesperson for the royal parks said protests must adhere to the rules.
"The royal parks have a long history of accommodating peaceful public protests. We usually only allow protests in Hyde Park but in exceptional circumstances we will consider applications for demonstrations elsewhere providing they adhere to the park regulations. But we must not lose sight that these are public parks, primarily places for recreation, and we must ensure they are managed in a way that caters for all park users."
The protests are taking place in St James' Park and The Mall as Xi makes his way to a banquet in his honor at the palace, which will be attended by senior politicians and royals including the prime minister, chancellor and Labour leader Jeremy Corbyn.
On Sunday the Independent reported Corbyn would call for the release of Liu in a one-on-one meeting with Xi before the banquet took place. He previously threatened to embarrass the queen by discussing China's human rights record at the banquet unless he was given a private audience.
It will be Corbyn's first official meeting with a head of state since assuming the Labour leadership.
The trip is expected to secure some £30 billion (US$46.4 billion) worth of trade deals between the two countries across industries including energy, finance, retail and aerospace.
"This is going to be a very important moment for British-Chinese relations. Trade and investment between our two nations is growing and our people-to-people links are strong," Cameron said in a statement.