'Burning UFO wreckage' in London suburb mystifies police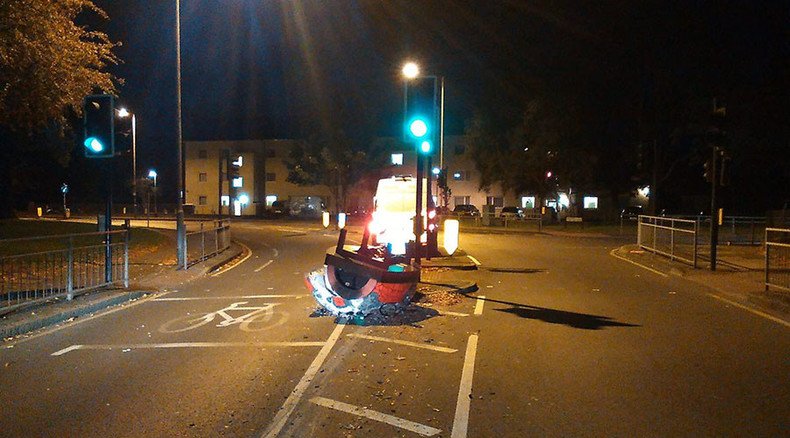 Police in Kingston in southwest London, had a close encounter of the third kind early on Saturday morning when they discovered a UFO-like object in the middle of a road.
Police in the London suburb were alerted to a mysterious fire next to a traffic light on Malden Road at about midnight between Friday night and Saturday morning.
Officers, who wondered whether they had come across the burning wreckage of a UFO, shared pictures of the "crash scene" on Facebook.
Police were called to the scene after a concerned member of the public phoned the emergency services to complain about a strange item on fire in the middle of the A2043.
Officers were accompanied by London Fire Brigade, according to a post on Kingston police's Facebook page.
"Officers from Emergency Response Team A were dispatched along with the London Fire Brigade. When they arrived on scene they couldn't believe their eyes!"
"The officers that arrived on scene described the item as looking like a crash landed UFO! Can you work out what the item is from the picture? Comment below with your guesses!"
Facebook users responded with a variety of useful suggestions.
"Spider-Man's holiday home?" asked one user.
"A ladybird," suggested another helpful citizen.
One Kingston resident took the opportunity to moan about local law enforcement.
"Drive through Kingston and stop for a second or two in a box junction, on a yellow line or clip a bus lane and a penalty ticket will drop through your letter box before the car engine has time to cool. But drive through Kingston dropping a dangerous or insecure load and nobody can track the vehicle??!!"
The unidentified object turned out to be a pizza oven, according to Kingston police.
The force has asked members of the public to come forward with information on how it ended up on fire in the middle of Malden Road.
"Anyone with information about this item and how it ended up being there please do contact us on 101 and quote CAD: 525/17OCT15."
You can share this story on social media: