China nuclear deal 'threatens national security' – intelligence sources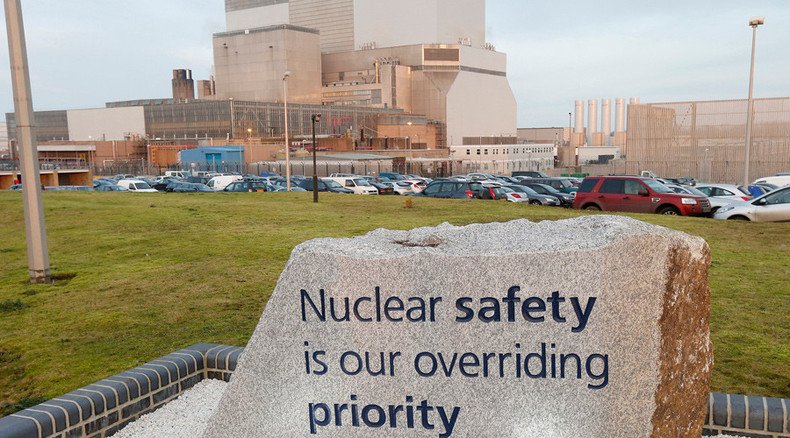 Chancellor George Osborne's plans to allow China to help design and build two nuclear power plants in the UK have been described as "astounding" by critics, who warn it poses a threat to national security.
Osborne hopes to finalize the multibillion-pound deals next week during Chinese President Xi Jinping's visit to Britain. If agreed, Chinese state-owned companies could design and build a reactor using their own technology at Bradwell on the Essex coast.
Security sources have expressed alarm at giving the People's Republic of China (PRC) such intimate access to Britain's energy infrastructure, warning the UK could be rushing into an agreement with Beijing without considering the threats.
"There is a big division between the money men and the security side," a security source told the Times.
"The Treasury is in the lead and it isn't listening to anyone — they see China as an opportunity, but we see the threat."
Osborne brushed aside concerns when he announced the deal last month, despite critics claiming it could enable China to use "trapdoors or backdoors" which could allow them to gain control of the nuclear power plant in the event of an international dispute.
"We get the power station built, it saves money for the British taxpayer, and it produces a good source of low carbon energy," he said during a five-day trip to China.
"Whatever the headlines, regardless of the challenges, we shouldn't be running away from China," he added.
Analysts estimate the nuclear projects could bring £100 billion (US$155 billion) worth of Chinese investment into Britain over the next decade.
But leading academics have expressed concerns about allowing China to gain such familiarity with Britain's national infrastructure, describing the notion as "astounding."
"No one else in Europe would cut this deal. America wouldn't dream of letting China have such a part in its critical national infrastructure," said government advisor Paul Dorfman of University College London's Energy Institute.
"The idea the UK is prepared to do so is, frankly, astounding," he added.
Bristol University's International Development professor Jeffrey Henderson expressed similar alarm.
"There is no other major developed economy on the planet where I can imagine this being allowed to happen," he said.
Business as usual
The Department of Energy and Climate Change defended the projects.
"The UK has robust regulations for the nuclear industry … our independent regulator is satisfied that the reactor for Hinkley is safe and secure," it said.
Proponents of the nuclear deal have argued Britain must strengthen its ties with China so the UK is not left behind.
"China is a huge economic force; Britain needs the inward investment. This is happening whether we like it or not and the key question is how we engage with it," said Rafaello Pantucci of the Royal United Services Institute (RUSI).
In an op-ed published in the Evening Standard on Thursday, former Liberal Democrat Business Secretary Vince Cable argued the UK must enter trade deals with China in order to increase exports and attract inward investment.
"Britain's starting point on trade is pretty abysmal. Germany and France, let alone Japan and the US, are way ahead in exports to China," Cable wrote.
"The main UK ambition from the visit is to attract Chinese inward investment, tapping into the large Chinese savings surplus … There will be criticism of Chinese investment in nuclear power. But the real issue here is the extent of subsidy for that industry, not the nationality of the investors."
Cable acknowledged there were three main risks to closer business relations with China. Firstly, Britain has put more faith in China than the US, which is much more cautious. Secondly, China is struggling with economic instability. Thirdly, China is not evolving into a liberal democracy, unlike other emerging economies.
Despite these concerns, the former business secretary backed the Conservatives' enthusiasm to do business with China.
"I have my disagreements with my former Conservative colleagues in the coalition government but I believe that Messrs. Cameron and Osborne have been absolutely right to give priority to building up our long-term relationship with major emerging powers such as China and India," he wrote.
Human rights
In his op-ed, Cable wrote there would be "strained and carefully choreographed conservations about human rights being closed doors" during President Xi's visit to London next week.
Whatever efforts Britain makes to raise the subject, the Chinese are unlikely to be receptive.
China's ambassador to the UK warned government officials on Thursday not to lecture Chinese officials on human rights during President Xi's visit, saying such a move would "offend" the Chinese leader.
"We don't shy away from talking about human rights. What we are against is to use human rights to interfere with other countries' internal affairs and to try to impose your own system on to others," he told a press conference.
Labour leader Jeremy Corbyn has already stated he will tackle Chinese officials over their country's human rights record at a state banquet hosted by the Queen in President Xi's honor next week.
Human rights campaigners have attacked China's recent crackdown on political dissent, with waves of arrests and detentions, as well as growing restrictions on Christians.
LISTEN MORE:
You can share this story on social media: