Lockerbie bombing: 2 new Libyan suspects identified in Scottish-US probe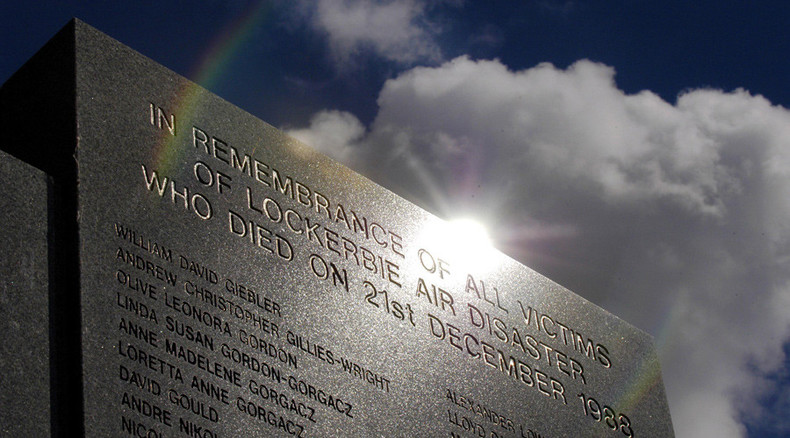 Scottish police and FBI agents say they have identified two new suspects in the 1988 bombing of Pan Am Flight 103 over the village of Lockerbie, which killed 270 people.
Only one man, Libyan intelligence agent Abdelbaset Al-Megrahi, was ever convicted for the atrocity.
Scotland's Lord Advocate, Frank Mulholland QC, recently traveled to Washington DC to discuss the matter with the US Attorney General, Loretta Lynch.
Mulholland and Lynch have now requested Libyan authorities allow the FBI and Scottish police to interview the two suspects in the war-torn North African state.
In a statement, a spokesman for the Crown Office said the US and UK now agreed "that there is a proper basis in law in Scotland and the United States to entitle Scottish and US investigators to treat two Libyans as suspects in the continuing investigation into the bombing of flight Pan Am 103 over Lockerbie."
The spokesman said an "International Letter of Request" had been sent to the Libyan attorney general in Tripoli regarding the matter.
The Crown Office has named the suspects as Abu Agila Mas'ud, Libya's former intelligence chief and a bomb-making expert, and Abdullah al-Senussi, also a senior intelligence agent and brother in law of the late Libyan dictator Muammar Gaddafi.
Both men are currently in prison. Mas'ud is serving 10 years for planting bombs on the cars of Gaddafi opponents. Al-Senussi has been sentenced to death by firing squad for war crimes including ordering the shooting of protestors during the Libyan uprising.
The situation is further complicated by the increasingly volatile security situation in the country that had developed since Gaddafi's forcible removal from power in 2011 by the US and its allies.