Boris Johnson floors Japanese schoolboy in rugby game (VIDEO)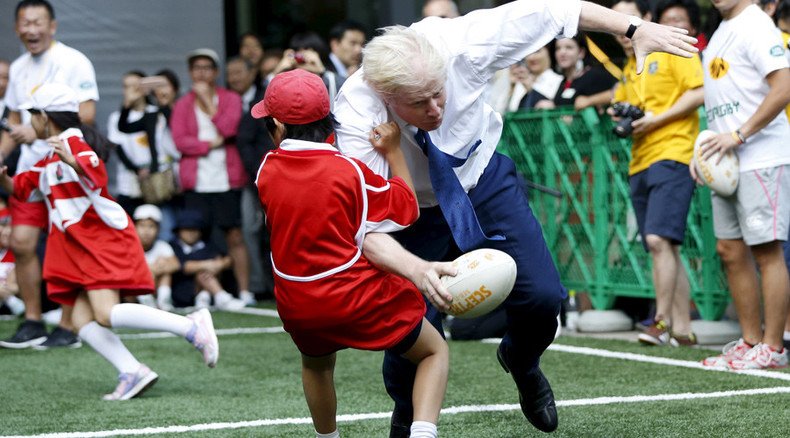 Serving London Mayor and Member of Parliament for Uxbridge and Ruislip, Boris Johnson, rugby tackled 10-year-old Toki Sekiguchi during a mini-pitch game in Tokyo.
The tackle occurred during Johnson's official visit to the country. Sekiguchi was winded and reportedly suffered some pain, but recovered quickly and continued to play.
Sekiguchi told the Guardian "I felt a little bit of pain, but it's OK," adding the game had been "enjoyable."
Dressed in shirt, trousers and tie, Johnson had been running down the pitch with the ball when the collision happened. The crowd laughed as the pair fell to the ground.
Johnson was quick to apologize and the two posed for pictures before Johnson handed Sekiguchi a 2015 Rugby World Cup ball.
Johnson played rugby as a schoolboy at Eton and as an undergraduate for Balliol College, Oxford. He continued to play for four years after finishing his education.
During his speech at the Conservative Party Conference this year, he referred to his rugby days as the "happiest, formative afternoons" of his life.
During his tour, Johnson also fried octopus balls alongside Japanese chefs and became the first foreigner to don a pair of large Shinto clogs, a privilege normally preserved for priests.
You can share this story on social media: