Osborne urges Labour MPs to back discredited fiscal charter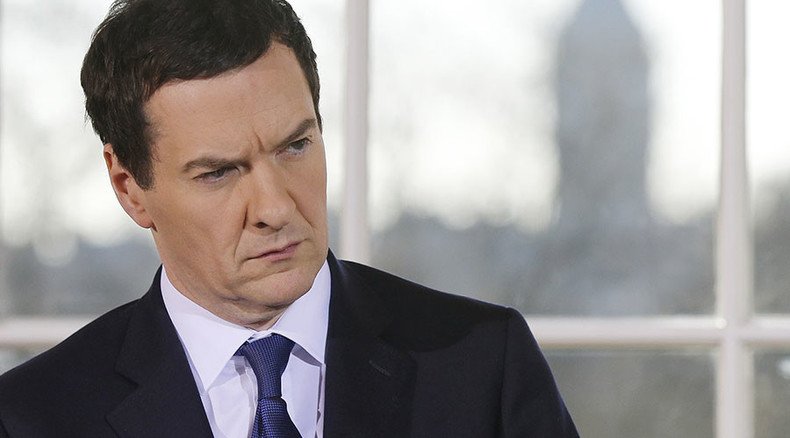 Chancellor George Osborne has called on Labour MPs to defy their newly-elected leader Jeremy Corbyn and vote in favor of a harsh new fiscal charter, which economists have described as 'ridiculous' and 'incoherent.'
Osborne on Wednesday asked "moderate, progressive Labour MPs" to back the legislation, which seeks to force future government to run a budget surplus – effectively enshrining austerity into law.
The Labour leader faces the biggest test of his leadership on Wednesday as he rolls out a three-line whip on his party to oppose the bill, which will be voted upon in the afternoon.
Shadow Chancellor John McDonnell admitted to having left Labour MPs confused after showing initial support for the charter last month, only to reverse his position over the weekend.
Many MPs on the right of the party were in uproar over the sudden change of course. However McDonnell justified the move by citing fears over future government spending cuts.
Chancellor Osborne, who is seen as a potential successor to Prime Minister David Cameron, sought to exploit a rift between the Labour leadership and the majority of MPs, who remain skeptical of Jeremy Corbyn's anti-austerity platform.
"I call on all moderate, progressive Labour MPs to defy their leadership and join with us to vote for economic sanity," Osborne said.
McDonnell described Osborne's gambit as a "political stunt."
"That's an Osborne stunt, isn't it? I don't think anyone will rise to it. They will see it for what it's worth. It's just another stunt. We are trying to get on to serious economic debate today, not those sort of political stunt," he told the BBC on Wednesday morning.
Explaining his volte-face on Tuesday, McDonnell said he had concerns over the impact of government spending cuts that would become embedded in law.
"I realized the consequences of the government's failure to invest in infrastructure and skills, the cuts that are going to start coming now, I realized that people are actually going to suffer badly," he said.
In an article for the Independent published on Wednesday, McDonnell insisted Labour was staying true to its principles.
"Let's be clear. We have changed our position with regard to the vote, or the Parliamentary tactics around what is clearly a political stunt, but we have not changed in our clear and consistent principles."
"George Osborne's austerity approach to deficit reduction has failed, yet now he hopes we will fall for it again," he added.
#BBC ignores overwhelming economists' opinion that Fiscal Responsibility Charter is ridiculously bad economics. Priority is attack on Labour

— michael burke (@menburke) October 14, 2015
McDonnell cited weaknesses in the global economy, with the IMF slashing growth forecasts and concerns about interest rises in the US, as key reasons to oppose the charter.
"In this context, ruling out the possibility of productive capital investment would be extremely foolish. A binding commitment to inflexible surpluses is, as I outlined in interviews earlier this month, incompatible with macroeconomic theory and practice.
"Many academic and applied economists have joined the political commentators in seeing through Mr Osborne's charade," he added.
Speaking to RT's Afshin Rattansi, in an interview for Going Underground aired on Wednesday, economist Michael Burke called the legislation "ridiculous."
"It's a ridiculous piece of legislation, although unamendable, which commits future governments to run budget surpluses in normal times. I would be surprised if you could get a tiny handful of economists around the world, who think that's a good idea. The overwhelming majority of economists know that you should borrow to invest, that's how you grow the economy."
You can share this story on social media: