Tortured Colombian trade unionist confronts BP over human rights abuses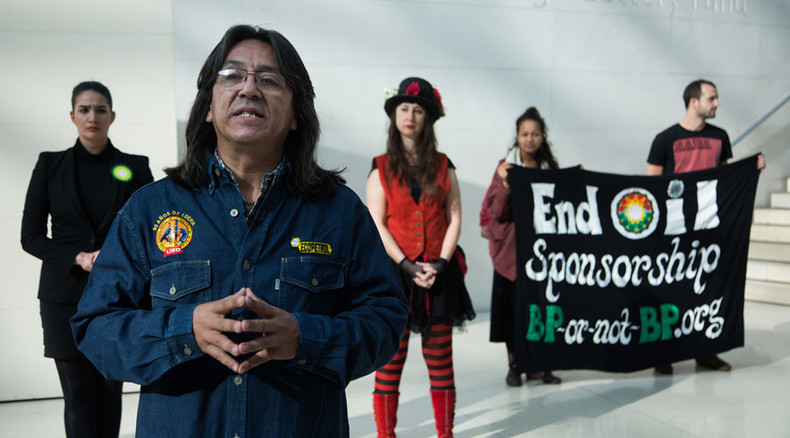 A Colombian trade unionist who was kidnapped and tortured by paramilitaries was joined by activists on Sunday to protest against oil giant BP's alleged involvement in human rights abuses.
Campaigners from Oil Justice Now teamed up with Gilberto Torres to stage a performance protest in the BP-sponsored British Museum.
Torres is currently suing BP in the British courts for involvement in his 42-day kidnapping in 1992. He believes his abduction was ordered by Ocensa, a joint-venture pipeline company that was part-owned by BP.
The Colombian engineer and trade union leader is visiting the UK on a two-week tour to raise awareness and funds for his lawsuit.
During the protest, Torres addressed the gathered crowd to tell the story of his capture by Self-Defense Forces of Casanare (ACC) – a violent pro-government paramilitary brigade.
"Today I am here, at the British Museum in London, because there is an oil company that is sponsoring this museum, and this company was involved in my 42-day-long kidnapping. This company is BP."
"When I was kidnapped, I knew what was going to happen to me. I knew I was going to be murdered and left by the side of some road.
"But thanks to people's solidarity, both national and international, to an oil workers' 24-day-long strike, and to demonstrations by communities in Colombia and human rights organizations, it was possible for me not to be executed. Instead, I was held for longer, then finally released."
Torres said he has faith the British justice system will rule in his favor, but he urged the public to campaign for laws that prosecute human rights violations committed by UK corporations.
In an interview with The Guardian in May, Torres described how his kidnappers accused trade unions of hurting the profits of multinational corporations.
"They told me everyone from the union were guerrilla motherf***ers, destroying the economy, blaming the multinationals that were giving us jobs. I was damaging the profits of the multinationals. That was not something they were prepared to tolerate," he said.
During his kidnapping, Torres watched as ACC paramilitaries shot a supposed guerrilla from the terrorist organization FARC twice in the head.
They proceeded to "cut his head, his legs and his arms off. And, at the end, the commander with a machete started to puncture his corpse."
Despite his traumatic experiences in captivity, Torres considers himself lucky. Only one other union official who was abducted by paramilitaries lived to tell the tale.
Torres' lawyer said he was risking his safety by suing BP in British courts and telling his story.
Sue Willman, of lawyers Deighton Pierce, said: "He and his community face huge barriers in accessing justice. We hope his courage and the Oil Justice initiative will be a small step in breaking down those barriers, and changing the behavior of corporations. We want to see BP held to account for its role in human rights violations, and we want justice to be done not just for Gilberto but for thousands of others."
Oil Justice Now staged their unsanctioned protest alongside campaign group 'BP or not BP?' in the Great Court of the British Museum. The performance featured two vaudevillian "truth translators," including one who was dressed as a BP executive who spouted "greenwash."
The group has called on the British Museum to end its relationship with the company.