Privy Council relieves Jeremy Corbyn of 'Right Honourable' label after Queen 'snub'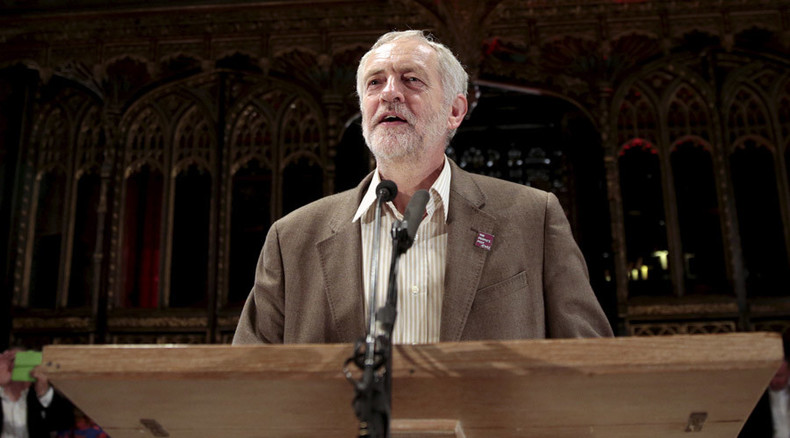 Britain's archaic Privy Council has ordered parliament to strip Labour Party leader Jeremy Corbyn of his "Right Honourable" title after he apparently "snubbed" a meeting with the Queen to go on a walking holiday, it has been reported.
Corbyn was briefly described as "Right Honourable," a title reserved for members of the Queen's Privy Council, a body dating back to the Middle Ages, on the Commons website after he was elected opposition leader, but it was amended after he canceled a Privy Council meeting with the Queen on Thursday.
Instead, he used that time to go on a short holiday hillwalking in Scotland. Unlike most MPs, who took an extended summer break for weeks, Corbyn has been working without a break since being nominated for the Labour leadership in June.
In that time, he was involved in an intensive election campaign involving 100 public meetings, and has since then faced a tough first Labour Party conference and an unprecedented blitz of media attacks since becoming leader on Sept. 12.
Corbyn said he could not attend the Privy Council meeting due to longstanding personal commitments – apparently a family vacation. He has said he would accept a place on the Council, but has not specified whether he would take part in the traditional swearing-in ceremony, which involves kneeling in front of the monarch.
The Daily Telegraph claimed on Monday that the "Right Honourable" title, which Prime Minister David Cameron used to address Corbyn when they first faced off in parliament, had been removed by the order of the Privy Council.
It is not entirely clear, however, that Corbyn ever held the title at all.
Confusion at Downing Street muddied the waters further when it was announced by No 10 that "the Queen has been pleased to approve the appointment of Jeremy Corbyn MP as a member of the Privy Council."
David Rogers, an expert on the Privy Council, told the Telegraph: "Number 10 had confused a recommendation to appoint with an actual appointment," probably due to a communication error.
When Corbyn initially said he would not attend the meeting, he immediately came under fire from other politicians.
"It is a snub for the Queen in the sense that she is a constitutional monarch and she represents the constitutional way in which we do business," Tory MP Keith Simpson told the Telegraph.
"Firstly it is deeply insulting, and secondly it is not grown up – not to go to see the monarch is just extraordinary," one MP told the pro-royalist newspaper on condition of anonymity.
READ MORE: Republican Corbyn snubs Privy Council meeting with Queen for 'prior commitment'

If he were to refuse a place on the Privy Council, Corbyn would be the first leader of a major political party to do so since Winston Churchill declined to accept security briefings under the Labour government of Clement Attlee in the 1940s.
In theory, Corbyn would not be entitled to certain security and intelligence briefings, though the precise nature of those briefings remains unclear.