UK may restart Cold War-style nuclear drills – senior diplomat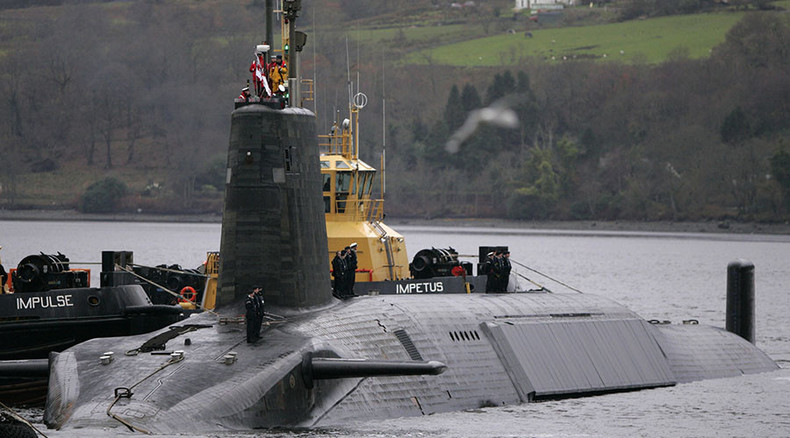 Cold War-style drills to test the transition from conventional to nuclear warfare may be restarted against the background of tensions between Western powers and Russia, a senior British diplomat has said.
Speaking from a defense ministers' summit held Thursday to discuss Russia's intervention in Syria, Sir Adam Thomson, Britain's diplomatic representative to NATO, suggested nuclear war games are a "recommendation being looked at" in order to boost deterrence.
"Since the end of the Cold War, NATO's done conventional exercising and nuclear exercising both, but not exercised the transition from one to the other, so that is under consideration," he said.
"It is safe to say the UK does see merit in making sure we know how, as an Alliance, to transition up the escalatory ladder in order to strengthen our deterrence," he added.
His comments came as defense secretary Michael Fallon announced 100 British troops would be deployed to Baltic States and 25 to train government forces in Ukraine.
"We are committed to supporting the sovereignty of the democratic nations of Eastern Europe," Fallon said.
"Now we will have a more regular drumbeat of troops deploying in the Baltics and Poland, and will step up our training effort in Ukraine.
"That is part of our more persistent presence on the eastern side of NATO to respond to any further provocation and aggression," he added.
The troops will be part of a NATO training, evaluation and capacity-building mission in Eastern Europe that will take place in Poland, Latvia, Lithuania and Estonia.
"They will be part of a more persistent presence by NATO forces," Fallon said.
The UK has already sent RAF Typhoon jets to patrol Baltic States' airspace. In June, RAF jets were scrambled from an Estonian air base to shadow two Russian planes across the Baltic Sea.