Coca-Cola 'trying to manipulate public' on sugar-obesity link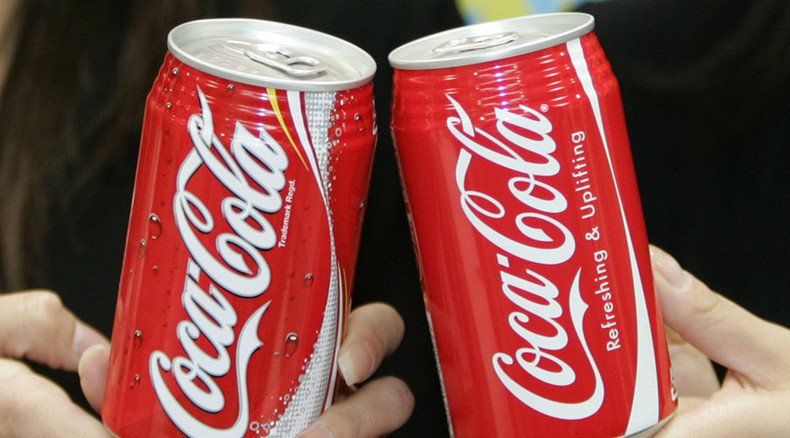 Coca-Cola has spent millions of pounds funding research institutes and scientists who cast doubt on the link between sugary drinks and obesity.
The drinks firm is said to have links to more than a dozen British scientists, including government health advisers, who counter claims that its drinks contribute to obesity.
The revelation of Coca-Cola's scientific funding comes weeks after the government rejected a tax on sugar sweetened drinks, despite support from Chief Medical Officer Dame Sally Davies, the British Medical Association and TV chef Jamie Oliver.
An investigation by The Times published on Friday revealed the full scale of Coca-Cola's funding of scientists.
According to the investigation, Coca-Cola spent £4.86 million setting up the European Hydration Institute (EHI), a seemingly independent research foundation which has recommended sport and soft drinks of the sort the company sells to the public, including children.
The newspaper claimed that Ron Maughan, chairman of the EHI's scientific advisory board, is an emeritus professor from a university which received almost £1 million from Coca-Cola while he provided nutritional advice to leading sports bodies.
Maughan has advised UK Athletics and the Football Association and has also been a consultant for Coca-Cola and other drinks companies since the 1990s, according to The Times.
Coca-Cola is said to have provided support, sponsorship or research funding to a variety of British organizations including UKActive, the British Nutrition Foundation, the University of Hull, Homerton University Hospital, the National Obesity Forum, the British Dietetic Association, Obesity Week 2013 and the UK Association for the Study of Obesity.
Through its trade organizations, Coca-Cola representatives have met government officials and ministers more than 100 times between 2011 and 2014, according to The Times. Coca-Cola is also said to host a parliamentary dinner.
Faculty of Public Health board member Simon Capewell accused Coca-Cola of trying to mold public opinion.
"Coca-Cola is trying to manipulate not just public opinion but policy and political decisions. Its tactics echo those used by the tobacco and alcohol industries, which have also tried to influence the scientific process by funding apparently independent groups. It's a conflict of interest that flies in the face of good practice," he said.
New York-based nutrition researcher Marion Nestle warned scientists should not take money from Coca-Cola.
"In my opinion, no scientist should accept funding from Coca-Cola. It's totally compromising. Period. End of discussion," said Nestle, a professor of nutrition, food studies and public health.
Coca-Cola of Great Britain said: "We rely on scientific research to make decisions about our products and ingredients and commission independent third parties to carry out this work."
Professor Maughan recognized "the need for caution" over industry funding but said that much good research would not otherwise have taken place. Loughborough said its research studies were subject to a strict code of conduct.
You can share this story on social media: