Donald Trump takes golf course fight against Scottish turbines to Supreme Court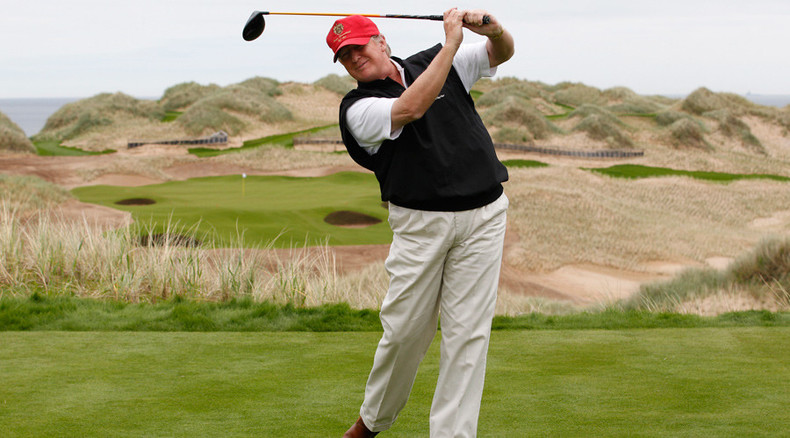 US Republican presidential hopeful Donald Trump is bringing his fight against an offshore wind farm project in Scotland near his Aberdeenshire golf course to the UK Supreme Court.
Trump, the current Republican frontrunner, did not appear in person at the court proceedings, which kicked off in Westminster on Thursday.
Angered that the turbines would "spoil the view" from his golf course, Trump had previously attempted to challenge the decision in Scottish courts. The magnate and his legal team argued that the planning decision taken by the government to approve the turbines was unlawful. He has also accused Scotland's former first minister Alex Salmond of bias toward the wind energy project.
Trump, who has pledged to pump as much money into the legal battle as necessary, has threatened to take the case to the European courts, if he loses in the UK.
The Scottish government granted permission for building 11 wind turbines several miles from Trump's Menie golf course in northeastern Scotland in 2013, after a wind energy company requested permission for the £230 million project two years earlier.
The turbines, a joint venture by Vattenfall Windflower and Aberdeen Offshore Windfarm Limited, would yield enough electricity to power 68,000 UK households per year, according to Aberdeen Renewable Energy Group (AREG).
Trump, whose mother was Scottish, bought the Menie estate in 2006. He transformed the area, which lies on protected coastal dunes, into a golf course, drawing the ire of environmental organizations and local residents.
READ MORE: 'Extraordinary person' Donald Trump invited to visit Crimea – as US president
Following the course's grand opening in 2012, Trump declared: "Nothing will ever be built around this course because I own all the land around it. It's nice to own land."
Trump, who hosted the career competition reality TV show "The Apprentice" until earlier this year, emerged in recent months as a dominant and controversial leader among the 12 Republicans running for president.
The real estate billionaire is expected to remain in the US for the duration of the court proceedings as the 2016 elections draw closer.