Britain to send troops to Eastern Europe in display of force against Russia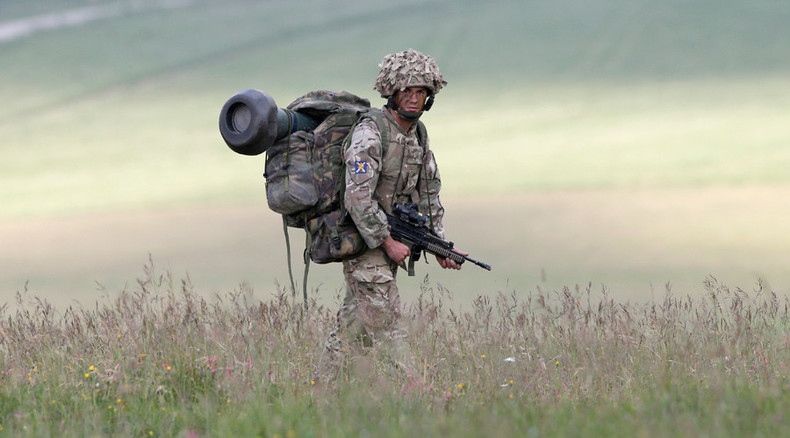 Britain will station "a small number" of troops in the Baltic in a show of force amid tensions between the West and Russia, the country's defense minister, Michael Fallon, has revealed.
Speaking ahead of a meeting of NATO defense ministers in Brussels, Fallon said the deployment is designed to show the military alliance is still strong.
"This is further reassurance for our allies on the eastern flank of NATO – for the Baltic States and for Poland," he said.
"That is part of our more persistent presence on the eastern side of NATO to respond to any further provocation and aggression."
The troops will be part of a NATO training, evaluation and capacity-building mission in Eastern Europe that will take place in Poland, Latvia, Lithuania and Estonia.
"They will be part of a more persistent presence by NATO forces," Fallon said.
The UK has already sent RAF Typhoon jets to patrol Baltic States' airspace. In June, RAF jets were scrambled from an Estonian airbase to shadow two Russian planes across the Baltic Sea.
LISTEN MORE:
The NATO defense ministers are meeting in Brussels amid escalating tensions over the Russian bombing raids in Syria, which have largely been condemned by the West.
"Russia is making a very serious situation in Syria much more dangerous," Fallon said.
"We will be calling on Russia specifically to stop propping up the Assad regime, to use their influence constructively to stop Assad bombing his own civilians and themselves to avoid the use of unguided munitions in areas that are not being controlled by ISIL," he said.

Russia began launching airstrikes in Syria against Islamic State (IS, formerly ISIS/ISIL) on September 30, making 120 combat sorties that hit 110 targets in just over a week, according to the Defense Ministry.
Russian military intelligence claims the assault has destroyed numerous ISIS bases and strategic facilities across Syria.
Among the objects destroyed are 71 armored vehicles, 30 other vehicles, 19 command facilities, two communication centers, 23 depots with fuel and ammunition and six plants used to make IEDs, including car bombs.
But western powers believe Russia is targeting other rebel groups, thereby propping up Syrian President Bashar Assad.
"If Russia wants to help here, the single most helpful thing they can do is use their influence on Assad to stop barrel-bombing his own civilians, their children, his own cities and villages," Fallon said. "That's how Russia could help to resolve this conflict."
LISTEN MORE: