Penis enlarger ad banned for 'misleading claims'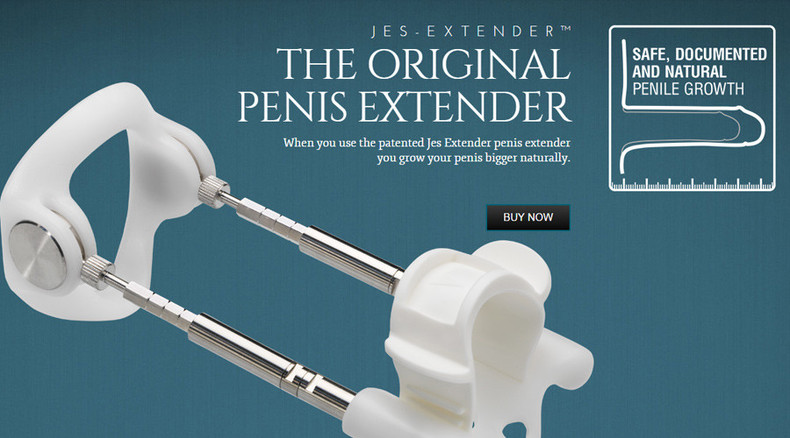 An advertisement for a "penis enlarger" has been banned by the UK's Advertising Standards Authority (ASA) after the watchdog found there is not enough evidence to prove the product actually works.
Some 42 percent of British men wish they had a longer penis, according to a YouGov poll. Many of them are determined to do whatever it takes to increase the length of their manhood by an inch or two.
Comfort Click's "Jes Extender" advertisement claims its penis enlargement product is the answer.
'Penis extender'
According to its website, the "original penis extender" can help men grow their private parts up to 24 percent their original size.
"Clinically tested with excellent results, the Jes-Extender is a pain-free treatment to enlarge your penis comfortably and easily," the website reads.
"Increase your penis size by 1.1 inches over 4 months with 1,200g of traction force ... This gives an additional 0.74 inches to the penis when flaccid ... You can expect a weekly average growth of 0.07 inches," it added.
Comfort Click claims the product has over 100,000 satisfied users and is a "number one choice" for men worldwide looking for a "safe way to enlarge their penis."
The product uses the "traction method" to increase penis length without surgery.
'Misleading'
However, one web user who visited the firm's site complained to the ASA, saying the claims were too good to be true.
The complainant doubted whether the firm had solid evidence to prove the product works.
In response, the ASA contacted the makers, requesting evidence.
The firm sent promotional materials, background information, trial summaries and testimonials, but the watchdog said the evidence provided was not enough to support the claims made in the advert.
"We had not seen sufficient evidence to support the claims that Jes Extender could enlarge penile length, we concluded the claims were misleading and had not been substantiated," the ASA said.
"This ad must not appear again in its current form," it added.
Germany is the world capital or penis enlargement, with roughly eight out of every 100,000 adult German males opting for the procedure.

— UberFacts (@UberFacts) October 4, 2015
The advertising watchdog ordered the firm to stop making "efficacy claims for their product in the absence of adequate substantiation."
However, Comfort Click insists the material they sent to the ASA supports all claims made in the advert.
According to findings published in the BJU International Journal of Urology in March, the average length of a flaccid penis is 9.16 centimeters and the average length of an erect penis is 13.12 centimeters.
A study conducted by researchers from UCLA and the University of New Mexico has revealed that women's idea of the perfect penis is "slightly larger" than the average.