Rough sleeping ban will 'criminalize most vulnerable' in Newport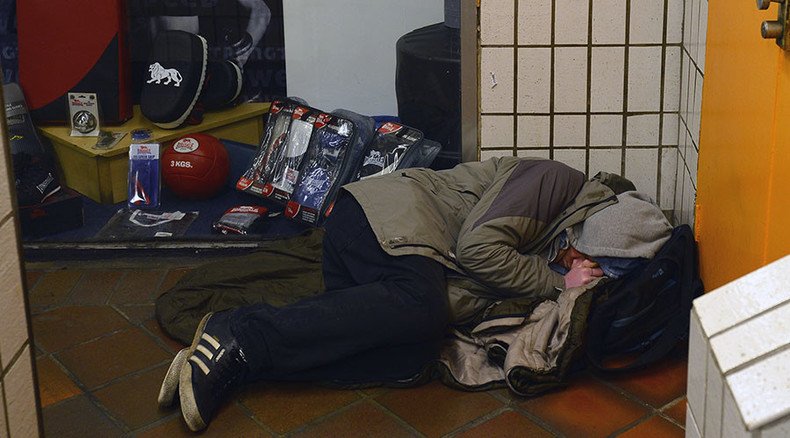 Human rights group Liberty has called on Newport City Council to scrap its plans to 'criminalize' begging and rough sleeping in the city center.
On Sunday, a consultation into the Welsh local authority's proposed Public Spaces Protection Order (PSPO) closed.
The Order, if implemented, would make free leaflet distribution, rough sleeping and begging illegal in Newport city center.
The proposals were announced soon after the council revealed measures aimed at "improving the area."
In a consultation paper, the council said it expresses "a view to introducing a new and updated PSPO in time for the opening of the Friars Walk retail development in November 2015."
However, Liberty has condemned these plans, claiming they would "criminalize the most vulnerable in the city."
"These proposals make a mockery of Newport's Chartist legacy. For the sake of a new shopping center, the Council is pouring its energies into criminalizing the most vulnerable in the city, and silencing means of dissent," Liberty's legal officer Rosie Brighthouse said in a statement.
"This PSPO won't house people, move them on, or help resolve their homelessness in any other way – it will simply fine them for their extreme poverty. We urge the council in the strongest terms to reconsider these utterly shameful plans," she said.
In a letter to Newport City Council's Labour leader Bob Bright, Liberty said a ban on rough sleeping would "constitute an interference with Articles 8 and 10 of the Human Rights Act."
"It will do nothing to address the underlying causes of homelessness and extreme poverty, or have any effect other than drawing impoverished people, many suffering mental health conditions into the criminal justice system," the letter read.
Speaking to the BBC on Tuesday, Labour councilor Bob Poole said Newport Council is trying to make the city center look more appealing.
The council has always, and will continue to help the homeless in Newport, together with 3rd sector partners http://t.co/jwmsbUhUZE (1/3)

— Newport City Council (@NewportCouncil) October 6, 2015
"It is perhaps timely, against this background of positive change, that this new piece of legislation offers the city and its residents the chance to build on that momentum by ensuring that the experience of people visiting the city center is a positive one," he said.
Minister and retail development manager Paul Halliday said Newport Council needs to support homeless people.
"What they need is help and support; what we don't do is demonize them and treat them like criminals," he told the South Wales Argus.
Commenting on the controversy, Newport City Council said the PSPO would not ban homeless people from the city center or prevent them from accessing night shelters.
A scrutiny committee of Newport City Council will consider the many consultation responses on 15th October (3/3)

— Newport City Council (@NewportCouncil) October 6, 2015
"In relation to rough sleeping, the council remains committed to working with other local service board partners in Newport to address the underlying needs of those affected in this way.
"Any prohibition within the PSPO relating to this activity would (if approved) simply make it unlawful to sleep rough in the city center; it would not ban homeless people from the city center or prevent them from gaining access to night shelters within this area.
"The night time safety of both the homeless and local residents is paramount."
The proposals will be discussed by the council's scrutiny committee on October 15.
You can share this story on social media: