Law fails to prevent 'extremely cruel' testing on monkeys, campaigners claim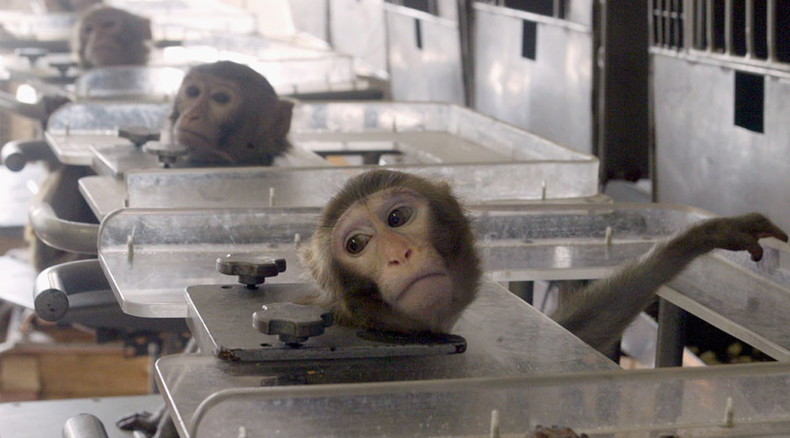 Laws aimed at preventing scientific testing on laboratory monkeys are not stopping many animals being subjected to "distressing, invasive and harmful" experiments, an animal rights group has claimed.
Such research is being conducted secretly in government, university and corporate testing facilities up and down the country, according to campaigners from Cruelty Free International.
In an extensive study on scientific monkey usage, it was found the animals are regularly subjected to maltreatment in contravention of their "special protection" status.
"Our report shows that it is still far too easy for these highly intelligent and social animals to be used in extremely cruel and distressing experiments that are wasteful and even frivolous in their design," Dr Katy Taylor, science director at Cruelty Free International, told the Telegraph.
"Far from helping produce cures for debilitating human diseases, most of the experiments appear to have minimal benefits for humans and give the impression of having more to do with defending the continued use of primates or satisfying the curiosity of researchers than advancing medical science," she added.
A European Union (EU) law, which governs the use of monkeys in research, says the animals can be used in critical research, such as experiments involving treatments for a life-threatening illness. They are also used in military experiments.
The UK is the third largest user of monkeys and other primates in the EU. As many as 2,000 animals are used annually.
The Home Office said the UK has particular high standards when it comes to the treatment of animals in scientific testing.
READ MORE: 'Gay' bull gets #SaveBenjy campaign for slaughterhouse reprieve

"Our regulatory system rightly grants non-human primates special protection, and they currently account for less than 0.1 percent of all licensed animal procedures," a spokesman told the Telegraph.
"However, their highly regulated use has been of great importance in major medical advances such as life-support systems for premature babies and deep-brain stimulation to relieve the symptoms of Parkinson's disease."