'Purely to observe, not to shoot people': Snipers spotted at Manchester anti-austerity march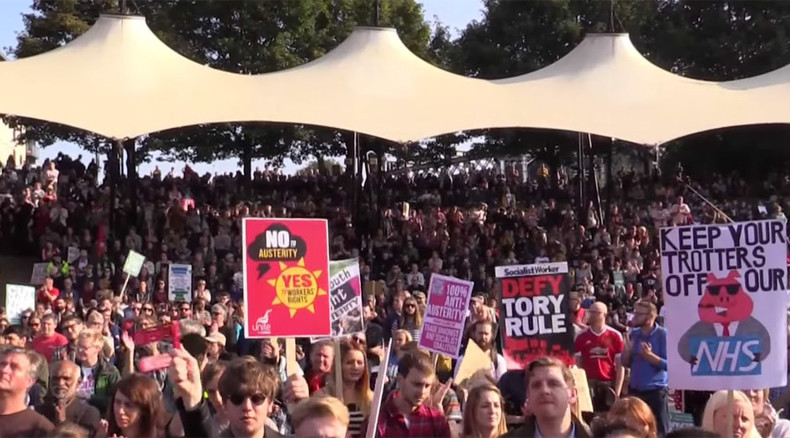 A crowd of at least 60,000 anti-austerity protesters in Manchester was chaperoned by snipers, who carefully watched over the march which had been staged to coincide with the Conservative Party conference held in the city.
Activists at the march spotted several snipers along their route and were quick to report it on Twitter. Sharpshooters were seen on the top of several roofs in the city center, with one user, Ben Whittingham, posting an aerial photograph of one of the marksman.
"Just a police sniper on roof of Tory party conference, which resembles a prison," he tweeted.
City police confirmed the activists' worst fears, but insisted that the snipers had ben placed on the roofs "purely for observation" as they supported the security on the ground of the event.
"They are high up for that reason, to observe. And they [the guns] are used for their powerful sight, which is stronger than any pair of binoculars," a Greater Manchester Police (GMP) spokesperson told the Manchester Evening News.
"They are not there to shoot people," the spokesperson emphasized.
Meanwhile the police made at least five arrests after a crowd of some 60,000 – according to police estimates – marched against the government's austerity policies, vowing to "chase the Conservatives out."
The organizers, the Trades Union Congress and The People's Assembly, insist that as many as 100,000 activists took part in the event.
Jeremy Corbyn, the leader of the Labour Party and leader of the opposition addressed the crowd.
"We're here to bring a message of hope to the people of Britain," he said. "The Tories don't have a monopoly on visions for people for the future!"
The crowd meanwhile seemed preoccupied with mocking Prime Minister David Cameron with pig jokes and banners telling him not to bomb Syria, cut welfare or slash funding for the National Healthcare System.
Those attending the conference that is held from October 4-7 were told to hide their conference passes while walking on the streets. The advice, however, did not save some of the delegates from insults and being pelted with rubbish as they passed into conference headquarters at Manchester Central.
You can share this story on social media: