Britain is fueling Mexico's brutal drug war, anti-arms charity warns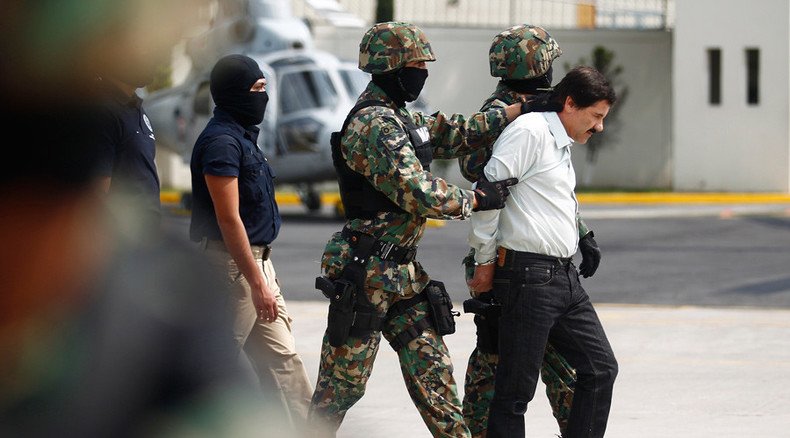 Britain is fueling a deadly conflict in Mexico as human rights abuses become entrenched and the state's drug war spirals out of control, anti-arms campaigners warn.
In a bid to highlight UK complicity in Mexican human rights violations, protesters gathered outside the Mexican Embassy in London earlier this week.
The campaigners called upon the British government to stop its arms sales to Mexico, as allegations of torture committed by the state's police and armed forces mount.
The protesters targeted the embassy in Mayfair on the anniversary of a brutal police massacre in the Mexican town of Iguala.
Fueling mexico's drug war
On September 26 2014, Mexican police ambushed a fleet of buses carrying students who were making their way to a protest in the town.
The police and a number of unidentified gunmen subsequently opened fire, leaving six people dead and injuring others. The officers abducted a further 43 students, who were never seen again.
When investigators examined weapons used by police in Iguala, they discovered 36 assault rifles manufactured by German arms firm Heckler & Koch (H&K). The arms giant also has a manufacturing base in Britain.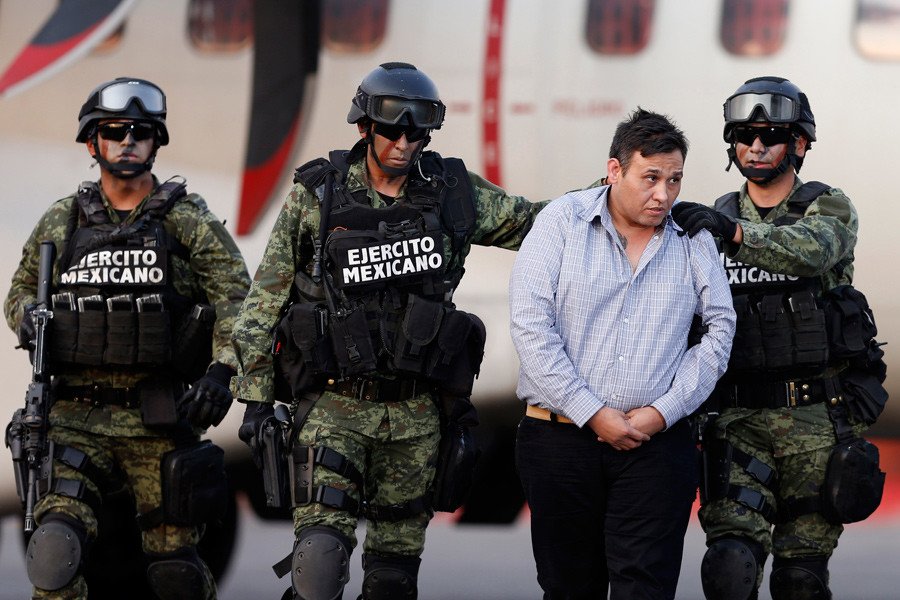 Britain's arms trade with Mexico is booming. The 2015 DSEI arms fair, held at London's ExCeL center earlier this month, was attended by an elite military delegation from Mexico.
The delegation, which was invited by Westminster, was offered personal shoppers to assist foreign buyers in browsing military wares.
H&K had a stall at the fair that displayed the model of assault rifles believed to have been used to shoot and abduct the Mexican students. Other firms that attended the fair, who supply arms to Mexico, included Colt and Beretta, Sikorsky and General Electric.
A further 20 British-based arms firms have applied for licenses to sell arms to Mexico, according to UK think tank Campaign Against Arms Trade (CAAT).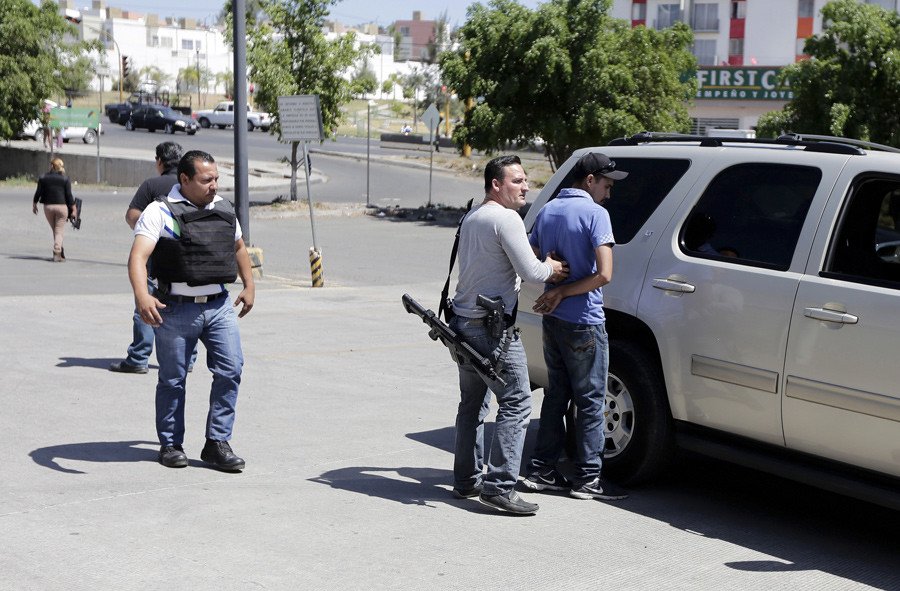 Krick Jackson of CAAT, who attended the protest outside the Mexican Embassy, sharply criticized Britain's arms trade with Mexico.
"The war raging in Mexico is one of the deadliest in the world, and the use of torture is widespread among Mexico's police and armed forces," he said.
"However, this did not prevent the UK government from inviting Mexico to shop for weapons at one of the world's largest arms fairs earlier this month."
Poverty, inequality and corruption
Mexico's drug war is an asymmetric conflict between the Mexican government and various drug trafficking cartels. The Mexican military intervened in 2006, as violence escalated across the state.
Cartels currently dominate Mexico's illicit drug market and were estimated to have controlled 90 percent of the cocaine trafficked to the United States in 2007.
The mass disappearance of the Mexican students near Iguala in 2014 provoked outrage worldwide, with human rights campaigners calling upon the Mexican government to address the situation.
Mexican authorities said the mayor of Iguala, José Luis Abarca, ordered the brutal attack. He was reportedly worried about potential disruptions to a political event that was hosted by his wife María de los Ángeles on the day of the massacre.
Ángeles is beleived to have familial ties to Mexico's notorious drugs cartel Guerreros Unidos. Members of the community say the criminal gang heavily influences local police. Federal authorities eventually arrested Mayor Abarca and his wife in Mexico City.
However, a police chief who was involved in the massacre remains a fugitive. Sometime later, Mexico's attorney general held a press conference, announcing the government had elicited confessions from three men believed to be members of Guerreros Unidos.
In the aftermath of the bloody shootout, police reportedly handed over the abducted students to gangsters who drove them to a remote trash dump outside Iguala. The men allegedly murdered the students, threw their bodies into the dump, and set them on fire.
Mexico's drug wars are some of the bloodiest in the world, and torture is widespread among Mexico's armed forces and police.
In July, two helicopters opened fire on an indigenous community near Iguala. The attack was reportedly sparked by community leaders, who said Mexican soldiers cried out slogans in support of a drug cartel as they fired on citizens.
Jackson, who has campaigned with CAAT for years, says weapons exported from the UK are contributing to atrocities in the region.
Political scientists from the University of Guanajuato, Armando Chaguaceda and Alex Caldera, argue the political chaos unraveling in Mexico was spawned by "three decades of neoliberal policies and the withdrawal of the state from its social responsibilities."
With a paltry annual growth rate that has averaged about three percent over the past three decades, a tax collection of barely 11 percent of GDP, public investment of under six percent of GDP, a workforce with low qualifications, weakened unions, massive informality taking in about 60 percent of all workers, and wages insufficient to cover basic necessities, Mexico is a country in which the very minimum of a welfare state simply does not exist," they told online news site Contributoria earlier this year.
"It is a country where poverty and extended inequality have become the broth that cultivates violence and corruption."
You can share this story on social media: