Indian PM Modi to address Indian diaspora at Wembley arena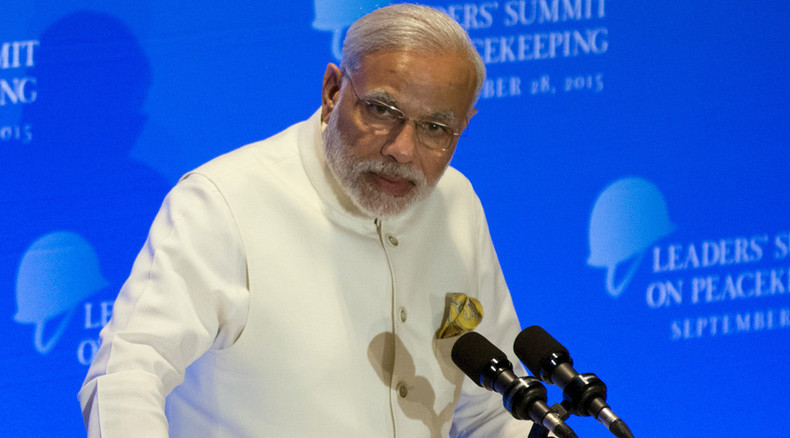 India's Prime Minister Narendra Modi will address Britain's Indian diaspora at London's Wembley Stadium in November to coincide with Diwali celebrations. The event will go on despite misgivings by Indian Muslims.
Modi, who will be the first Indian PM to visit the UK in a decade, is due to address the Indian community in a cultural show organized to welcome him to Britain.
The 'UK Welcomes Modi' event, organized by the Europe India Forum in partnership with Indian community organizations across the UK, will take place in November.
There are 1.6 million Indians in Britain, making it the largest minority ethnic community in the country. More than 70,000 people are expected to attend the welcome event.
"Prime Minister Modi's already iconic leadership has made waves across the world," the event's website reads. "UK Welcomes Modi is honored to host this new global visionary who will give us a glimpse of India in years to come as it forges new paradigms of growth and success for not just Asia, but the rest of the world too.
"It is the Diwali event for the family this year, with a cultural showcase featuring the best of Indian and British talent, a landmark speech to be delivered by Prime Minister Modi and a grand finale featuring the biggest fireworks display in the whole country," it added.
British PM David Cameron is "looking forward" to Modi's visit, but stresses that "very few world leaders" can fill a stadium such as Wembley, which has a capacity of 90,000.
"Cameron categorically said he was looking forward to the prime minister's UK visit," a spokesperson for the Ministry of External Affairs told reporters after a meeting between the two leaders in New York on Monday.
"It was a very good, useful discussion. The two leaders enjoy a lot of personal chemistry," they said.
"They discussed bilateral issues, some of the regional issues and climate change," the spokesperson added.
'Special relationship'
Britain's most senior minister of Indian origin, Priti Patel, told the Indian Express that Modi's visit next month will boost the "special relationship" between India and the UK.
However, relations between the two nations have been rocky over the past years.
In 2012, Britain was one of the first countries to cut Modi off diplomatically after the 2002 ethnic riots in Gujarat. Critics say he failed to do enough to stop the unrest, which caused the death of 1,000 people, many of them Muslims.
At the time, Modi was chief minister of the state. He continues to deny any wrongdoing.
There had been previous calls from Britain's Gujarati community to end India's relationship with the UK. His popularity among Indian Muslims in Britain has plummeted.
In July, Modi backed calls for Britain to pay compensation for damage caused during colonial rule in India.
Speaking in a debate at the Oxford Union in July, Shashi Tharoor, former under-secretary-general of the United Nations, said: "Britain's rise for 200 years was financed with its depredations of India."
Tharoor said Britain's industrial revolution "was actually premised upon the de-industrialization of India."
Before a gathering of ministers in July, Modi said Tharoor's comments "reflected the sentiments of patriotic Indians on the issue."
The 200-year British rule of India ended in 1947.
Last year, Cameron came under fire following a state visit to India, in which he failed to apologize for the 1919 Jallianwala Bagh Massacre in Amritsar, which saw non-violent protesters fired upon by the British Indian Army.