'Jamaica must move on from painful legacy of slavery' – Cameron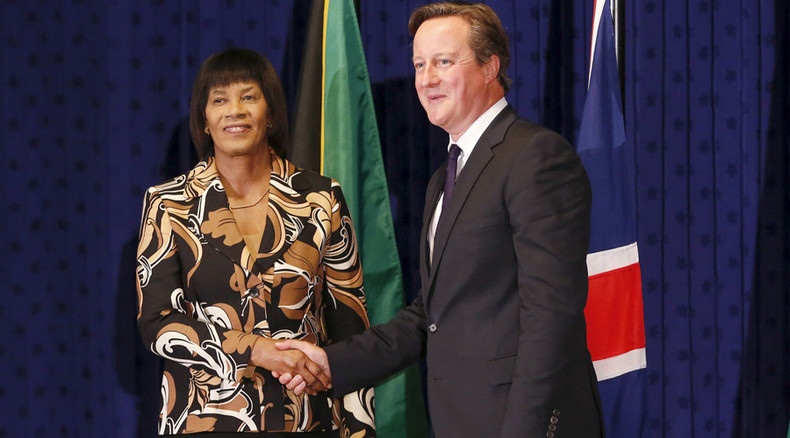 Prime Minister David Cameron has urged Caribbean countries to "move on" from the "painful legacy" of slavery, but rejected calls for Britain to apologize for its part in the trade or pay reparations.
During his first official visit to Jamaica, which was overshadowed by a row over slavery, Cameron was called upon to apologize for the "historical damage" Britain had caused the island's people.
High-profile politicians and campaigners in Jamaica said Cameron must "atone" for slavery personally, after reminding him of his family's links to the slave trade.
"His lineage has been traced: his forefathers were slave owners and benefited from slavery. Therefore he needs to atone, apologize personally and on behalf of his country," Lawyer Bert Samuels, member of the Commission on Reparations, told Television Jamaica.
However, in the midst of talks at Jamaica's parliament on Wednesday, the PM said he is aware Jamaica's "wounds run very deep," but insisted Britain's role in wiping slavery "off the face of our planet" must be remembered.
"Slavery was and is abhorrent in all its forms. It has no place whatsoever in any civilized society, and Britain is proud to have eventually led the way in its abolition," Cameron said when addressing Jamaican MPs.
"While there is indeed much to celebrate about our past, it would be wrong to do so while ignoring the most painful aspects of it – a period which should never be forgotten, and from which history has drawn the bitterest of lessons.
"I do hope that, as friends who have gone through so much together since those darkest of times, we can move on from this painful legacy and continue to build for their future."
Some Jamaican MPs shook their heads in disgust when Cameron said they should "move on," but cheered when he revealed his commitments on foreign aid.
The PM promised the UK would build a £25-million prison in Jamaica using its foreign aid budget to house 300 of Jamaica's citizens serving sentences in Britain.
Cameron, who visited Jamaica to "strengthen the relationship" between the UK and the Caribbean, also announced he would pledge £300 million to pay for infrastructure.
"If we are to beat corruption, we need transparency", U.K. PM David Cameron tells a joint sitting of the Jamaica Houses of Parliament.

— Greg Christie (@Greg0706) September 30, 2015
A Downing Street spokesperson said the PM told Jamaica's Prime Minister Portia Simpson-Miller that the "longstanding position" of the UK is "we do not believe reparations are the right approach."
The UK emancipated its slaves in 1833. Caribbean governments estimate reparations for the slave trade could run into trillions of dollars. About $4 trillion was made from slaves' unpaid labor alone, they argue.
Britain's wealth was underscored by the slave trade. In 2006, the Church of England admitted to benefiting financially from the practice.
Labour leader Jeremy Corbyn told delegates at the party's annual conference: "We should be doing all we can to try and right the wrongs of the past – improve trade facilities and arrangements, improve support for Jamaica. That is, in a sense, a form of reparation, though I would be interested to hear what the proposals are and what the discussions are."