Massive sinkhole swallows suburban street, families evacuated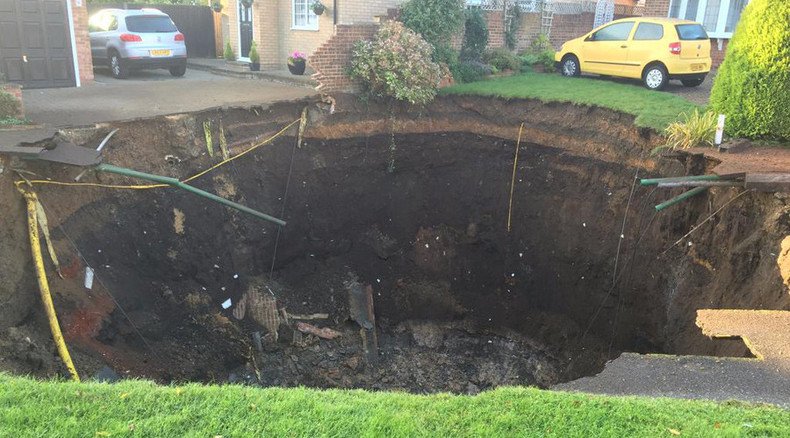 A giant sinkhole 20 meters (66ft) across and 10 meters (33ft) deep has opened up in a London commuter town, forcing residents to evacuate their homes in the middle of the night.
Families in the quiet Hertfordshire cul-de-sac were shocked to find a sinkhole had swallowed up a chunk of their neighborhood.
Hertfordshire Fire and Rescue appeared on the scene at 1.30am on Thursday morning after residents heard a crash in the night.
At least 10 people were taken to an evacuation center set up at nearby Batchwood Hall nightclub, according to the fire service.
The sinkhole started as a small hole in the road a few days ago, according to Hertfordshire Fire and Rescue service watch commander John Hudnott.
It was thought at the time the hole was caused by a leak in the water main.
"They had a sinkhole in Hemel [Hempstead] this year or last but I've never seen one like this," he said.
"I have absolutely no idea how long it's going to take to get the power back on. We thought it was the water leak, but now we're not so sure."
Gas, water and electricity supplies in the area have been turned off, leaving 58 houses without any utilities.
Some families are unable to return to their homes and are being rehoused by the local authority.
A spokesperson for Hertfordshire County Council said it was too early to say when residents could return to their homes.
"Hertfordshire Fire and Rescue Services were called to the scene at 1.30am this morning," a spokespersons aid.
"Overnight the county council's resilience team swooped in and organized the evacuation. St Albans City and District Council set up an evacuation center at Batchwood Leisure Centre."
You can share this story on social media: