400k cancer patients in 'dire money situation' facing further welfare cuts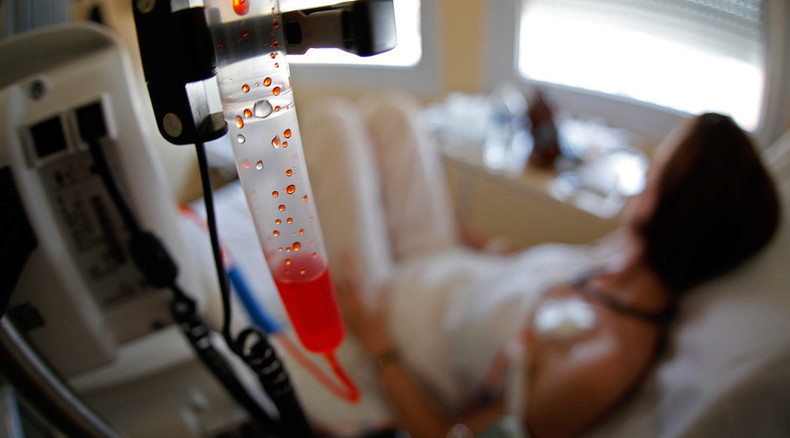 Hundreds of thousands of cancer patients in the UK are struggling to pay their bills each month. Government cuts to welfare will make matters worse, according to Macmillan Cancer Support.
A survey found almost 400,000 people living with cancer – nearly half of all people diagnosed with the disease – are being forced into debt in order to survive during treatment.
A third of people within this group said their illness is directly affecting their money situation, as many patients cannot work during treatment.
The charity is calling on the government to reconsider further cuts to Britain's welfare system, which threaten to make the situation worse for people with cancer.
One of the patients surveyed described being sacked from her job as a result of her cancer diagnosis and is now on the verge of bankruptcy.
According to the Macmillan survey, nearly a third of people living with cancer have been forced to take out loans to pay their bills.
The average amount borrowed over the past year came to £1,270, but in two percent of cases patients borrowed more than £10,000.
Some 34 percent of cancer patients have dipped into their savings, while nine percent rely on a store card or credit card.
An estimated 66,000 people living with cancer missed paying council tax and 61,000 did not pay their water bills last year.
Many people have been forced to drastically cut down their expenses – buying cheaper food but less nutritious (14 percent surveyed), skipping meals (10 percent), selling off possessions (nine percent) and not buying new clothes when they need them (17 percent).
Cathy Simms, 47, was diagnosed with bowel cancer in 2012, after which she was sacked and accrued huge debts.
"The battle with debt has been harder than the cancer itself. I lost my well paid job due to discrimination, took my employer to court and partially won the case," she said.
"But it's had devastating effects as I lost two years' income when I couldn't pay my bills, resulting in huge unpaid debts. To settle these I may face bankruptcy or an IVA and even selling the family home. It's been the most awful experience."
Macmillan Chief Executive Lynda Thomas said the situation for cancer patients could get worse if new cuts to the welfare system are passed in parliament.
"Today's findings are truly distressing. They shine a light on just how dire the financial situation has become for many people with cancer in the UK. No one should have to worry about where money to pay for their heating is going to come from when they're going through cancer, or be forced to buy less nutritious food at a time when they need it the most," she said.
"Unfortunately cancer comes with a cost, and not just one that's physical and emotional, but one which can bring patients to the brink of financial crisis.
"On top of this, the Welfare Reform and Work Bill is currently going through Parliament and it proposes to reduce the benefits of cancer patients who are unable to or need help getting back to work by around £30 a week. Macmillan is calling on the government to reconsider these plans as they could leave thousands of people with cancer without a sufficient financial lifeline at a time when they are already struggling."
A spokesperson for the Department of Work and Pensions (DWP) said cancer patients will continue to get support through the benefit system.
"Those who are already receiving Employment and Support Allowance, will see no change in the level of benefit they receive. Payments for those placed in a support group, which includes the vast majority of those with cancer, will be maintained at the current level," the spokesperson said.