'Stop social cleansing!' Anarchists attack café in 'f*ck parade' against gentrification (VIDEO)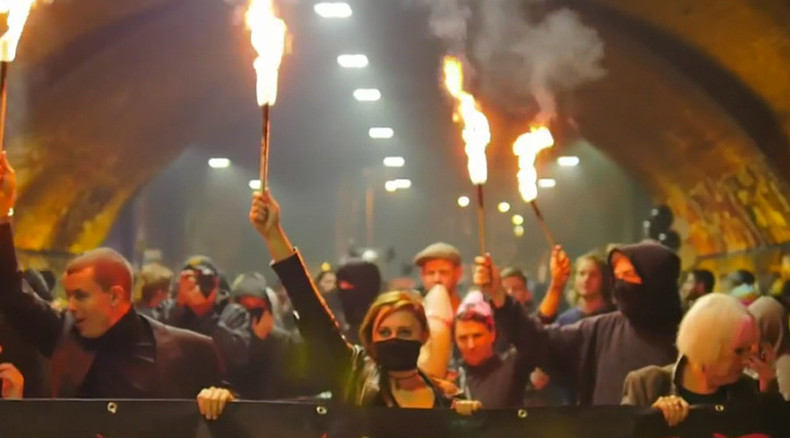 Crowds of anti-gentrification protesters attacked a cereal café in east London on Saturday to draw attention to a growing wave of social cleansing across the capital.
Riot police arrived at the Cereal Killer Café in Shoreditch on Saturday night after it was targeted by angry protesters. The business, which is located in one of London's trendier neighborhoods, is viewed by some as a symbol of inequality.
The protest, which was attended by anarchists sporting pig heads and torches, was advertised online as the third "F*ck Parade."
It was organized by anarchist group Class War.
"Our communities are being ripped apart – by Russian oligarchs, Saudi sheiks, Israeli scumbag property developers, Texan oil-money twats and our own home-grown Eton toffs," a spokesperson for the group said.
"Local authorities are coining it in, in a short-sighted race for cash by 'regenerating' social housing."
"We don't want luxury flats that no one can afford, we want genuinely affordable housing. We don't want pop-up gin bars or brioche buns, we want community."
The Cereal Killer Café's owners said the attack on their business left customers "terrified for their lives."
"It's senseless violence, isn't it? ... It just doesn't make sense," Gary Keery, who co-founded the cafe, told The Guardian.
Footage of the attack, filmed by RT's affiliate video agency Ruptly, shows scores of protesters marching through central London carrying a banner that reads "Class War."
While some wore police costumes and pig masks, others carried torches and hurled paint at businesses in the east London area. The campaigners also mounted a dismembered mannequin head on barbed wire in a bid to demonstrate the isolation and misery caused by social cleansing.
Esther Planas Balduz, a 55-year-old artist who attended the demonstration, told The Guardian she supports the cause because she was evicted from her home of seven years when her rent was doubled in 2014.
"I've lived in Shoreditch for 17 years and it's appalling what's been going on. It's our fault, artists like me go to these kind of areas, then the architects follow, the developers, the hipsters etc," she said.
"The problem is social cleansing. There are no protections for us. The law does not protect us, only the greedy landowners."

Another activist who attended the demonstration stressed the Cereal Killer Cafe was targeted as a "symbol of gentrification." But he emphasized an estate agent nearby was also attacked as part of the protest.
The Cereal Killers Cafe has sparked controversy since opening. The Keery brothers were previously forced to defend their prices after a Channel 4 News reporter asked whether local residents could afford £3.20 for a portion of cereal.
Keery denies his café was representative of east London gentrification.
"There's another Pret [café chain] at the top of the street here and that wasn't targeted. We're an independent business, we've got two shops, we've only been open months," he said.
"If you want to talk about gentrification and different classes, you don't go about attacking independent businesses who are putting their whole life on the line to open a business, you go to the conglomerates and big companies."
Keery, who runs the cafe with his twin brother, said adults and children who were dining there blocked the café doors when protesters targeted the building. But protesters managed to break into the café and hurl in a smoke bomb.
"If they really believe in the protest, why are they covering their face while they're doing it? Why are they wearing pig masks?" he said.
Class War, the anti-capitalist movement behind Saturday's protest, also campaigned outside London's Jack the Ripper museum on Sunday, amid claims the "misogynist freak show" is creating a "tsunami of wealth" across east London.
The group said the new tourist attraction glorifies sexual violence and is yet another chapter in the area's history of "social cleansing and colonization by the international rich."
Scotland Yard said one of its officers suffered a facial injury during the protest after a bottle was flung in his direction. Police also accused a criminal section within the "Class War" group of throwing missiles and attacking other shops along Brick Lane.
Over the years, "Class War" has attracted criticism from some socialist and left campaigns, who have said the anarchist group deliberately provokes violent confrontation with police rather than mobilizing communities in non-violent mass protest. There have even been suggestions that undercover police and MI5 agent provocateurs use the group as a cover to start trouble and discredit the left.