'Heartbreaking': 1,700 jobs slashed as Teesside steel plant mothballed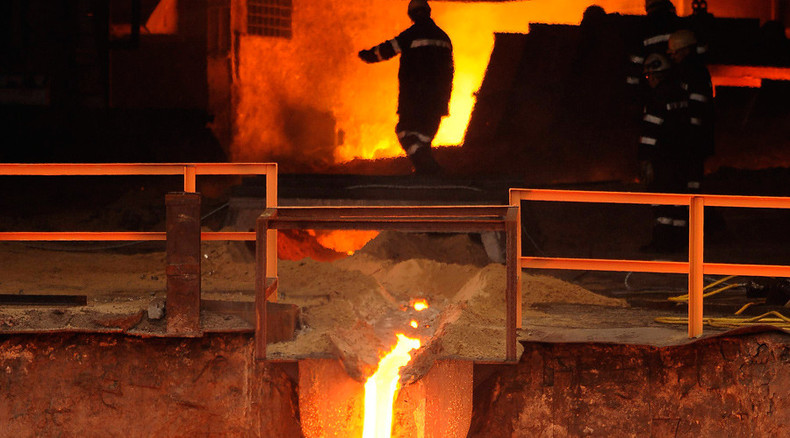 Trade unions have called on the government to intervene after SSI Steel announced it is to mothball an iron and steelmaking plant in northeast England, resulting in the loss of 1,700 jobs.
The Thai-owned steel company in Teesside blamed falling steel prices for the closure, but said it would talk to the government about reopening in the future.
Anna Turley, Labour MP for the local Redcar constituency, described the job losses as "devastating" and called on ministers to take control of the site and its assets to ensure a future for steelmaking in the region.
Trade Union Congress (TUC) General Secretary Frances O'Grady said the move was a blow to Chancellor George Osborne's plan to create a so-called "northern powerhouse" by revitalizing business in the north of England, where unemployment and poverty levels tend to be higher than in southeast England.
"The future of British steelmaking is at a crossroads," she said.
"At a time when competitor nations are spending heavily on helping their energy-intensive industries to become greener, companies in the UK are being forced to pay huge costs."
"The chancellor must provide more financial support for manufacturers in November's spending review. If the government does nothing plants like SSI will continue to close," she added.
David Hulse, national officer of the GMB union, said the government could intervene to save jobs.
"The government has got to take some responsibility for this. They can still intervene to save Redcar and the thousands of jobs that rely on the plant," he said.
The Community union said it would be calling an urgent meeting with SSI Steel.
SSI worker Eugene Purvis told the BBC that people living in the area were "a bit snookered" by the move.
"We're wondering what's going to happen workwise. I'm 56 years old, where do I get employed next? And of course this area, with some of the highest unemployment in the country, people are going to be a bit snookered I think," he said.
"I was here from the Tata days, there was a lot of people who left jobs to come in and work for SSI, for the security more than anything else.
"[The company] came over and spent millions, absolute millions, it give the country the foreign investment it was crying out for, and I'm afraid the government and the country isn't replying," he added.
Conservative Business Minister Anna Soubry said a taskforce had been set up to support workers and emphasized the plant was being mothballed, offering the hope it would be reopened in the future.
Soubry pointed out that the price of steel has almost halved over the past year due to overproduction in the world market.
"While government cannot alter these conditions, I have called a steel summit to see what more can be done to help our steel industry," she said.
The government has ruled out renationalizing the steel industry and said it has already provided steel firms with £47 million in compensation for carbon permit costs.
Ministers claim they can take no further action because their hands are tied by strict European Union state-aid rules.
MP Turley accused SSI Steel of playing "fast and loose" with the plant's future.
"It's absolutely heartbreaking, it's devastating. It's a huge number of jobs, it's a huge number of livelihoods, but it is more than that to our community," she said.
You can share this story on social media: