'That is class war': Ex-Greek finance minister Varoufakis trolls austerity (VIDEO)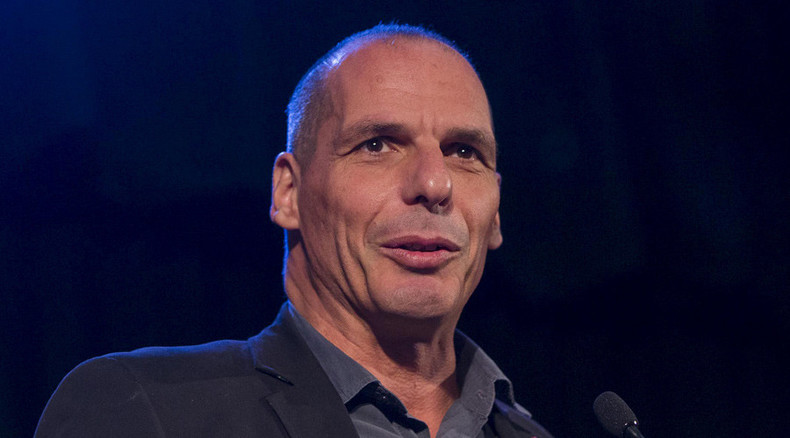 Greece's charismatic motorcycle riding former finance minister Yanis Varoufakis blasted the British government's austerity drive, as "class war." He also dismissed an audience member's beer analogy as economically illiterate on Thursday evening.
The fiery economist took part in the BBC's flagship debate show 'Question Time'. He attacked austerity and its proponents for pursuing nothing short of "class war."
He pointed out what he saw as a contradiction between cutting welfare and social security, while giving tax cuts to the rich, arguing it was a case of government redirecting money from the poor to the rich.
"The problem is that austerity is being used as a narrative to conduct class war," Varoufakis said.
"To be talking about reducing the state further when effectively what you are doing is reducing taxes like inheritance tax and at the same time you are cutting benefits – that is class war."
Varoufakis also addressed the claims of an audience member that a national economy is comparable to spending ten pounds on beer during a night out in Cambridge.
"Your personal life is not a good model on which to base a national economy," the economics professor said, after explaining the difference between the financial affairs of individuals and those of a nation state.
The austerity program championed by Chancellor George Osborne has come under increasing criticism since its inception, not least in terms of one of its stated aims: reduction of the national deficit.
UK government borrowing actually increased in August, despite Osborne's repeated promises that austerity is the most viable means of reducing the state's deficit.
In the face of scathing criticism, Osborne has consistently claimed the government's austerity policies are necessary to keep the deficit in order. However, doubt over the credibility of his claims surfaced on Tuesday, after new figures showed a clear rise in public borrowing for August 2015.
New opposition leader Jeremy Corbyn, of whom Varoufakis spoke glowingly in the BBC debate, will set out his alternative economic vision over the course of the Labour Party conference which begins on Sunday.