'Cannabis forest' discovered in southwest London – police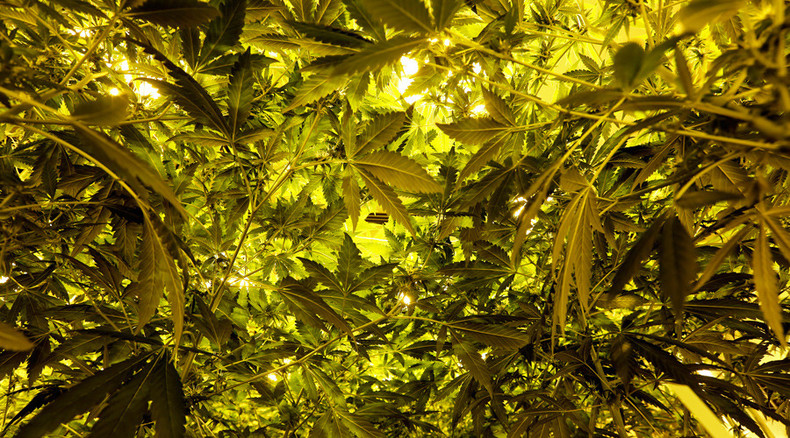 Police in Kingston, southwest London, have discovered a 'forest' of 150 cannabis plants, some more than five feet tall. Officers are currently organizing for the plants to be destroyed.
"There have been no arrests at this time and enquires continue, to find those responsible for cultivating the plants," a statement read.
PC Sarah Henderson, of Kingston borough, described the scene.
"The area these plants were growing on was the size of a football pitch, it looked like a small forest of Christmas trees and was complete with a gazebo.
"Whoever set this up used a really remote spot; the only way to get there was a 20 minute walk through wasteland. But all their time, trouble and gardening skills will go unrewarded, as the whole lot will now be destroyed by police."
While farms on a commercial scale are being tackled by officers, police have become more lenient on those growing cannabis in a personal capacity.
It was revealed in July that officers in County Durham had effectively legalized the growing of marijuana by declaring it was no longer a priority.
Police in the area said they would only go after drug users if they were being "blatant" or they had had a complaint.
The policy was outlined by the Police and Crime Commissioner for the area Ron Hogg, who said it he hoped their decision would spark a national debate.
"We are not prioritizing people who have a small number of cannabis plants for their own use. In low level cases we say it is better to work with them and put them in a position where they can recover," he said.
"In these cases the most likely way of dealing with them would be with a caution and by taking the plants away and disposing of them. It is unlikely that a case like that would be brought before a court.
"Of course it is up to the government to change the law, but I'm trying to open up a debate about drugs and drugs policy."
The government, however, remains committed to its 'war on drugs' and has continued to criminalize recreational and dangerous drugs. It has further introduced a blanket ban on legal highs.
You can share this story on social media: