World's fastest car capable of 1,000 mph goes on display in London (VIDEO)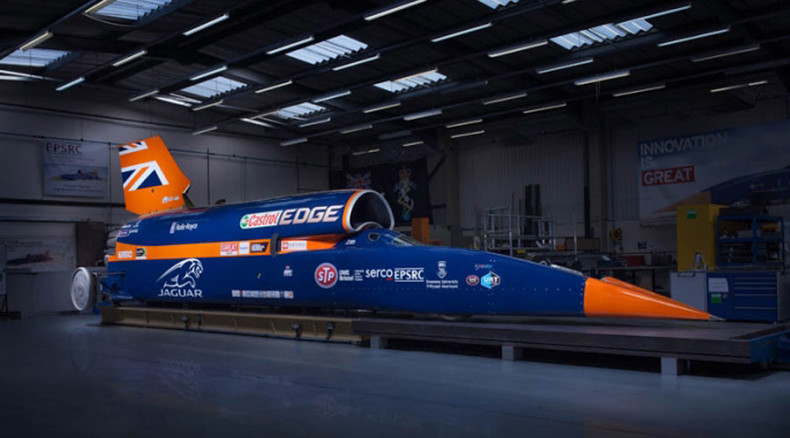 The world' most powerful car capable of travelling at speeds of up to 1,000 mph (1,610 km/h) was unveiled in London on Thursday for the first time.
The supersonic vehicle, named Bloodhound, has cost £10m to make and features a Rolls Royce EJ200 jet from a Eurofighter Typhoon.
Designers say they will break the world record for the world's fastest car next year, which currently stands at 763 mph (1,228 km/h).
Some 8,000 people are expected to view the car in Canary Wharf on Friday and Saturday, where it will be open to the public.
Bloodhound, which is capable of travelling a mile in 3.6 seconds at full speed, could become the world's fastest car.
The team behind the car will carry out 200 mph trials at Newquay Aerohub in Cornwall next year, before going to South Africa for a series of high-speed runs in the desert.
Lead engineer Mark Elvin told the Mirror working on the project was like being a part of history.
"This week was the first time it left the assembly point – looking at it you just think 'wow,'" he said.
"Working on this project feels like being a part of history. It's great to be finally able to share our work.
"I have no doubt in my mind that we will beat the world record next year. We'll go for 800mph, and then in 2017 we'll come back and go for 1,000mph," he added.
The current world record for the fastest land speed was made by Andy Green, who reached 763 mph (1,228 km/h) in a Thrust SSC in the Black Rock Desert, Nevada in 1997.
Bloodhount features a Rolls Royce EJ200 jet from a Eurofighter Typhoon, a cluster of Nammo hybrid rockets and a Jaguar V8 engine that drives the rocket oxidizer pump.
When the engine is at full blast, Bloodhound is capable of generating 135,000 thrust horsepower, equivalent to 180 Formula One cars.
The pencil shaped car is made of carbon fiber with a steel and alloy chassis. It is 13.4m long, 6ft in diameter and weighs 7.5 tons.
Bloodhound project director Richard Noble said the exposition in London would showcase the "extraordinary engineering" inside the vehicle.
"Public interest in Bloodhound is incredible and we simply can't get enough people into our Bristol Technical Centre to satisfy demand," he said.
"We realized too that we have a unique opportunity to show the car before its carbon fiber and titanium skins are fitted in place, so people can see the extraordinary engineering inside."
"Thanks to the generous support of our partners we are able to bring Bloodhound to London and put it on public display," he added.
Bloodhound will be on display in East Wintergarden, Canary Wharf in London from Friday September 25 to Saturday September 26.