Millions of UK pensions exposed to 'high-risk' fossil fuel investments
Council pension funds in Britain have invested £14 billion in the fossil fuel sector, despite the fact these assets risk tumbling in value as the world grapples with climate change.
Following detailed analysis of UK councils' investment patterns, a coalition of environmental groups uncovered some controversial findings.
350.org, Platform, Community Reinvest and Friends of the Earth scrutinized £231 billion (US$351 billion) worth of investments belonging to 418 councils across the UK.
Millions of local government workers were found to have invested £3,000 each in fossil fuels as part of their pension pot, despite a growing chorus of critics who warn against investing in the sector.
More than 6 percent of local authority pensions were found to be invested in fossil fuels, while 75 percent of direct fossil fuel shareholdings were linked to ten energy giants – headed by Shell and BP.
The largest fossil fuel investments were made by Manchester (£1.3 billion), Strathclyde (£750 million) and West Yorkshire (£670 million). However, Merton (11 percent), Worcestershire (10.7 percent) and Camden (9.5 percent) also had high exposure.
Council pension fund investment patterns are heavily influenced by external advisors and fund managers, who pocket millions in exchange for their counsel.
Such investment practices ignore the social and environmental consequences of investing in fossil fuels and opportunities to bolster low carbon investment. 350.org, Platform, Community Reinvest and Friends of the Earth argue these investment policies should be vigorously challenged.
'Risky investments'
With global oil prices spiraling, and financial analysts predicting further steep declines, fossil fuel investments are unlikely to reap lucrative returns in the short term.
California's state pension funds were hit by losses of $5 billion in 2014/15 following a drop in the value of fossil fuel shares. The market turmoil that ensued drove them to divest from the sector and reinvest elsewhere.
Despite the jeopardy associated with fossil fuel investments, the risks are largely ignored by UK council pension funds, managers and advisors.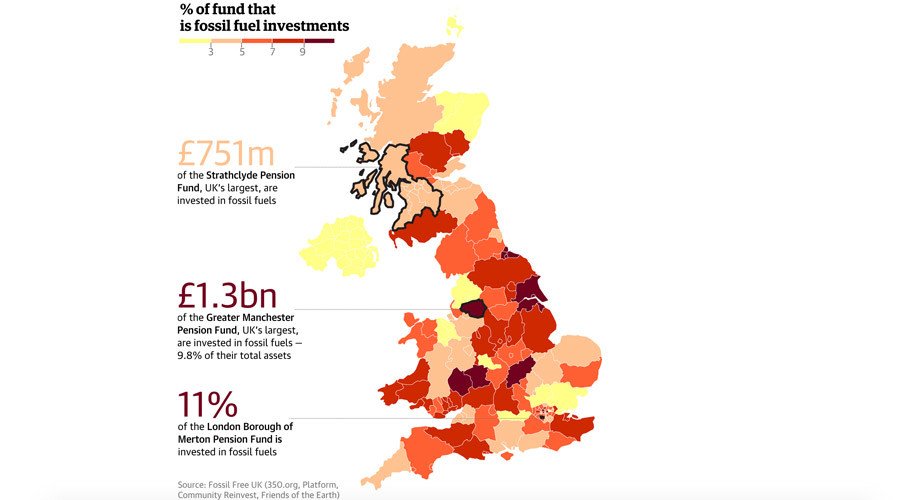 Natalie Smith, a lawyer at Client Earth, said a growing pool of research suggests financial risks related to climate change will affect investment portfolios.
"If pension fund trustees fail to properly manage these risks and the value of the pension pots of members declines as a consequence, then trustees and investment managers could be sued for breaching their fiduciary duties," she told the Guardian.
'Divest and reinvest'
Community Reinvest, which is calling upon councils to divest from fossil fuels, says UK pension funds and advisors are shunning their responsibility of driving Britain's low carbon transition.
"Pension funds should be about securing workers' financial futures and supporting an economy and an environment in which retirees and future generations can thrive," co-founder of Community Reinvest Jo Ram said.
"Investing public pensions in fossil fuels makes no sense, when our local economies are in long term decline through lack of investment and we know 80 percent of known fossil fuel reserves must be kept in the ground to avoid the catastrophic effects of climate change on society."
Ram praised Lancashire Council's investment in new energy, and called upon other local authorities to follow suit.
"Lancashire County Council through its ground breaking investment in Westmill Solar Co-operative energy scheme has shown what is possible. Other councils such as The Greater Manchester Pension Fund, London Pensions Fund Authority, Strathclyde Pension Fund, and London Borough of Islington's pension fund are also showing us what is possible," she said.
"We think it's high time more councils do the same, that is explore options for pooling investments into community energy projects new infrastructure and affordable social housing."
Founder and co-director of the Carbon Tracker Initiative Mark Campanale said renewable energy is an increasingly attractive industry to invest in.
"Right now, anyone trying to find value in fossil fuels have shied away. Technological change, such as we've seen in the renewables sector recently, is inevitable and costs are only falling," he said.
"Smart investors are beginning to see that competition from solar in particular and also battery energy storage, is likely to be the death knell of the fossil fuel industry."
Greater Manchester Pension Fund said it has no plans to divest from fossil fuels "in the medium term."
"It is critical that we assess all financial risks to the fund, including those posed by fossil fuels," it told the Guardian, adding it is developing its understanding of the issue and this process cannot be rushed.
Merton council said pension funds' investment managers are legally required to secure maximum returns for their employees. But it argued it "has a proud track record of investing in sustainability."
According to a report published by accounting giant Ernst and Young in 2012, investing £1 million in wind energy creates 21 jobs, while investing the same amount in oil and gas creates just 13. Despite the potential profits associated with green energy, council pension funds, largely managed by City institutions, consistently fail to invest in the sector.
350.org, Platform, Community Reinvest and Friends of the Earth are calling upon local authorities to reinvest their £14 billion in fossil fuel shares in low carbon infrastructure. They argue such a move would empower local authorities to protect pensions while generating sustainable turnovers. In particular, they are calling for investment in community-owned renewable energy projects and projects to bolster energy efficiency among consumers.
You can share this story on social media: