Corbyn's economic policy agenda backed by leading hedge fund tycoon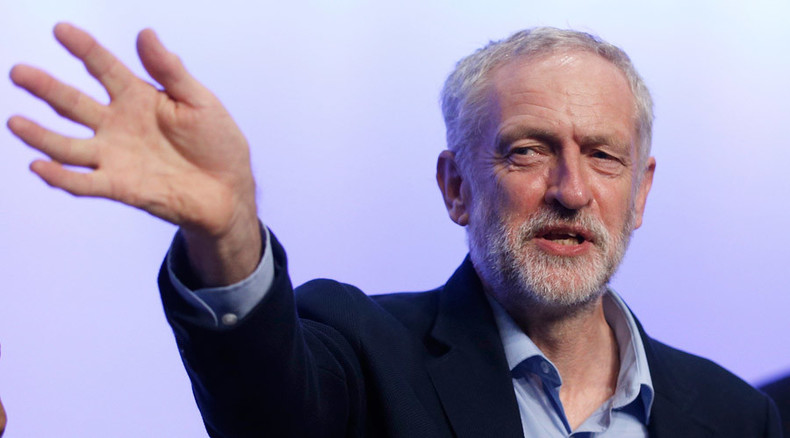 Labour Party leader Jeremy Corbyn's economic policies have been applauded by a leading hedge fund tycoon, who says the socialist veteran's concept of 'people's quantitative easing' holds real merit.
Labeled progressive by leftists and misguided by Conservatives, people's quantitative easing has been criticized by right wing economists and Britain's business elite.
But wealthy financier Paul Marshall, who co-founded the $22 billion hedge fund Marshall Wace, has signaled his support for the policy.
In an opinion piece, published in the Financial Times on Tuesday, Marshall said that bankers, property owners and hedge fund managers like him "owe a debt" to quantitative easing that caused asset prices to surge since the 2008 financial crisis.
The hedge fund manager said it is unsurprising Britain's Left would envision a new version of quantitative easing, which is not disproportionately beneficial to bankers and a marginal elite.
Marshall, who is one of Britain's wealthiest hedge fund managers, said people's quantitative easing is more progressive than the policy in its traditional form.
But the tycoon added Corbyn and Labour Shadow Chancellor John Mc Donnell should only implement the policy if another financial crash occurs.
Corbynomics
As Labour leader, Corbyn has pledged to end austerity, tackle growing inequality, crack down on corporate tax dodging and help create a thriving, highly skilled workforce.
His economic plan centers on rebalancing the state's economy to create a more just and prosperity-focused economy.
Corbyn is adamant his party would seek to close the deficit by cultivating a robust, productive economy that works for society at large. He has pledged to protect public services and society's most vulnerable where tough choices emerge, and place a strong emphasis on the need for tax justice.
While Corbyn's opponents argue quantitative easing would drive up inflation and interest rates, making the cost of living higher for ordinary Britons, his supporters disagree. UK economist and tax expert Richard Murphy, who acts as an advisor to Corbyn, says people's quantitative easing differs markedly from the traditionally-understood model of quantitative easing (QE).
The QE employed by UK governments from 2009 to 2012 did not see funds flowing into Britain's productive economy, Murphy argues, but rather into house price and asset speculation.
The economist stressed this scenario proved fruitful for bankers, who found themselves with cheap money to speculate.
Under Corbyn's policy, however, debt would be repurchased deliberately and issued by councils, health trusts or a green investment bank for the purpose of funding new forms of investment.
Such an approach is vital in an economic climate where financial markets and big business are failing to deliver the level of investment Britain needs, Murphy argues.
'Double standards'
Marshall's support of people's quantitative easing may come as a surprise for Corbyn, who has been a staunch critic of the hedge fund industry in the past.
Speaking at a trade union conference in Brighton last week, the Labour leader said the Tories are bankrolled by Britain's booming hedge fund sector.
Corbyn noted the government displays double standards when it comes to money in politics, embracing hedge fund donors on the one hand while strictly monitoring trade union funds on the other.
Despite Marshall's support for people's quantitative easing, many key establishment players remain opposed to the concept.
Ex-Bank of England (BoE) economist Tony Yates previously warned the policy would undermine the "social usefulness" of money, while Confederation of British Industry (CBI) director general John Cridland said it should only be used in times of emergency.
"What we've got now is an economy which is soundly based, a recovery which is long term," Cridland said.
"You can't print money and borrow endlessly. You have to have a soundly based economic recovery."
Opposition to Corbyn's people's quantitative easing has also surfaced in Labour's establishment ranks. Writing in the New Statesman, Labour's ex-shadow chancellor Chris Leslie said the policy is "fundamentally flawed."
Governments don't have the power to "magically" erase the deficit by printing money without feeling the consequences, he argued.
LISTEN MORE: