Scottish referendum was influenced by 'pressure & scaremongering' from UK govt – Salmond to RT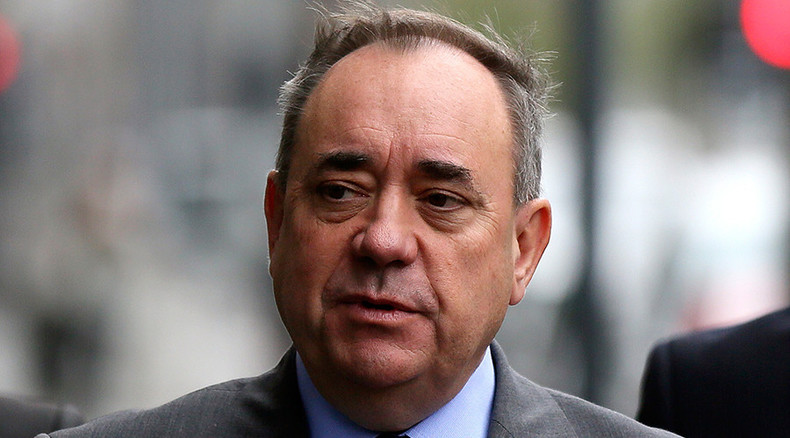 A year on from the Scottish independence referendum, former Scottish National Party (SNP) head Alex Salmond opens up about the historic vote to RT's Going Underground, saying the poll was highly influenced by a "panicked" Downing Street and big business.
Speaking to Going Underground host Afshin Rattansi, Salmond said a strategic move was made by the British government just 10 days before the referendum, when it invited the heads of several major companies to Downing Street.
"The reason I know this is that not everyone that was called in agreed that they should become the agents of the government, and therefore immediately phoned me to warn me of the orders they had received from Downing Street."
He said the companies were "told they had to speak out immediately to save the union," adding that major retailer Asda succumbed to the pressure, while supermarket chain Tesco refused.
Salmond stressed that the Downing Street meeting took place just after a poll in The Sunday Times showed the 'Yes' side ahead for the first time in the campaign.
"There's no doubt that was quite influential; it had a scaremongering, mounting effect. But of course if you've got hard cop ... to be effective you've got to have a soft cop as well. And of course the soft cop initiative was 'listen, you vote no and we'll give you lots of extra powers. We'll give you home rule. We'll give you devolution to the max. we'll give you as close to federalism as you can possibly have within a year.'"
Salmond concluded that it was that combination of "pressure and scaremongering" and the "offer of additional powers" that was ultimately decisive in the referendum.
As for those who lined up against Scottish independence one year ago, Salmond said there seems to be "a bit of a hex" on them.
"I'm not saying I've got absolute evidence of a curse that's been placed on them, but the evidence is mounting up. Ed Miliband, where is he now? Gordon Brown, where is he now? Nick Clegg, where is he now? [Retailer] Marks & Spencer haven't been doing very well. And now we find [former Australian Prime Minister] Tony Abbott has fallen by the wayside. So one by one, all of the instigators of the 'no campaign under fellow travelers' are being reduced to dust across the planet. If it's not a hex, then certainly you don't get good luck by campaigning against the people of Scotland," he said with a laugh.
You can share this story on social media: