Syrian asylum seeker dies, electrocuted attempting to reach UK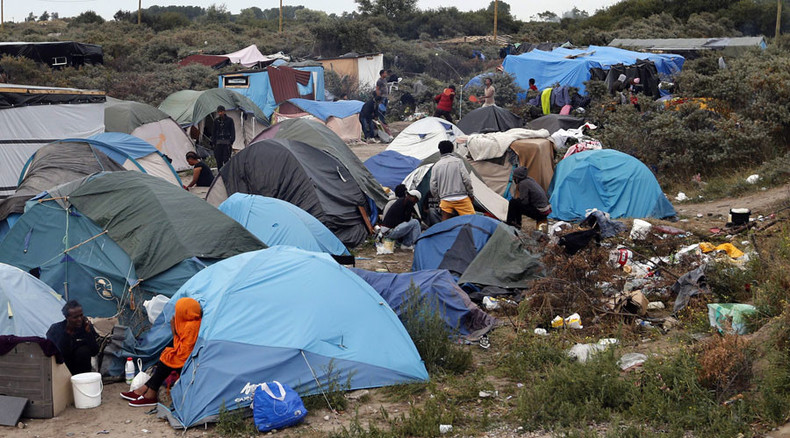 A Syrian man was electrocuted attempting to board a British-bound freight train in Calais. He is the tenth person to die in such tragic circumstances since June.
The man, whose name has not yet been released, died after attempting to climb on to the roof of the train bound for the UK. He was discovered on the French side of the Channel Tunnel just before midnight on Thursday, local officials say.
"The individual died after he was electrocuted trying to climb on to the freight car," a spokesman for the authorities in northern France told AFP.
An estimated 3,000 refugees and migrants, primarily from Syria, Africa and Afghanistan, are camped in Calais near the tunnel's entrance. Many have made attempts to reach Britain, by entering the tunnel or trying to hide in trucks.
On Wednesday, global refugee agency UNCHR called for a "united European emergency response" to the refugee crisis.
"Individual measures by individual countries will not solve the problem, but will make an already chaotic situation worse, further the suffering of people and increase tension amongst states at a time when Europe needs more solidarity and trust," it said.
The UNCHR was particularly critical of the Hungarian government's recent response to the crisis.
"Reports indicate that only a few asylum seekers have been allowed to enter Hungary through the official border crossing point," it said.
"UNHCR was especially shocked and saddened to witness Syrian refugees, including families with children who have already suffered so much, being prevented from entering the EU with water cannons and tear gas."
Hungary has also forced refugees and migrants to return to Serbia, despite UNCHR advice to do otherwise.
Prime Minister David Cameron has vowed to settle roughly 20,000 from crisis-ridden Syria before 2020. However, human rights campaigners say this figure is far from adequate. The first will arrive from camps which border war-torn Syria in the coming days.
Speaking in the House of Commons on Wednesday, Home Secretary Theresa May said the government is "working at speed" to secure more arrivals.
"In welcoming vulnerable refugees to the UK it is imperative that we have in place the support and help that they need and deserve," she said.
"I know that honorable members and the general public are keen to know more detail on the numbers and when people are expected to arrive."
France and Germany have pledged to take an extra 55,000 refugees and migrants in the next two years. The plan, which forms part of a pan-EU initiative to house 120,000 asylum seekers across Europe, was outlined on Wednesday by European Commission (EC) president Jean-Claude Juncker.
German Chancellor Angela Merkel echoed the UNCHR earlier this week when she called upon other EU leaders to do more to address the crisis.