Alex Salmond to RT: 'UK govt stands condemned' on refugee crisis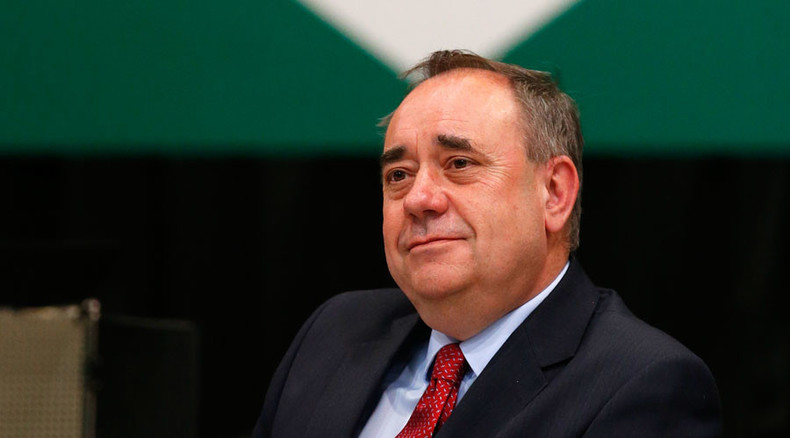 In an exclusive interview with RT's Going Underground, former Scottish National Party (SNP) leader Alex Salmond says the British government has neglected to give the ongoing refugee and migrant crisis enough resources and attention.
Speaking to RT's Afshin Rattansi, Salmond said while Hungary is deliberately impeding the voyage of traveling refugees and migrants, the UK is complicit in aiding the crisis by failing to act.
The former First Minister of Scotland, who stepped down after the unsuccessful referendum exactly one year ago, said Cameron was "neither helping nor assisting" other countries tackling the crisis.
In September, Cameron announced the UK would take in 20,000 refugees from camps around the Syrian border by 2020. This measure was quickly criticized as being "too little, too late" by high-profile public figures.
REFUGEE CRISIS: Afshin Rattansi - "Do you think David Cameron is handling it well?" Alex Salmond - "No I don't!"

Posted by Going Underground on Friday, 18 September 2015
It was revealed that the new plan amounted to just 12 refugees per day over the next five years.
When asked whether he believed Cameron was handling the crisis well, Salmond said "I do not."
"But firstly responsibility where responsibility lies. There's one country in Europe that's handling things worse than David Cameron and that's Hungary. I think they should feel ashamed of themselves.
"However, David Cameron is not helping. My granny used to say 'if you can't help, don't hinder' and David Cameron is neither helping nor assisting colleagues. He's actually hindering the sort of agreement that would be necessary to address the overall questions."
He added the government "stands condemned" of failing to act.
"I think David Cameron and the UK government stands condemned of passing by on the other side while fellow human beings are [going through extreme situations] on the continent."
During the interview Salmond also spoke about the recent election of new Labour leader Jeremy Corbyn.
The Scottish MP said Corbyn had become appealing to Labour supporters in the wake of the general election defeat, and that the SNP could work with his party on a number of issues.
"Jeremy Corbyn won [the leadership election] the night that the previous Labour leadership decided to abstain instead of voting against the Tory welfare proposals," he said.
"I said that night, 'this is going to put petrol in Corbyn's engine.'"
"So [issues] like welfare, like Trident, and opposing bombing in Syria, I'm sure it's going to be much easier to cooperate [with Labour] than with his predecessors."
But he added that he did not see the Labour Party as a threat to the SNP in Scotland.
"The reason why I don't think that Corbyn is a serious threat to the SNP is that Labour's position in Scotland depends on their electability in Westminster. If Labour are not able to be seen as electable in the foreseeable future in Westminster then they are very little threat to the SNP."
For the full interview, tune in to Going Underground on RT - 135 Freeview, 512 Sky, at 9.30, 2.30 and 7.30 GMT on Saturday September 19.