Jeremy Corbyn will not quit NATO or disband British Army – shadow chancellor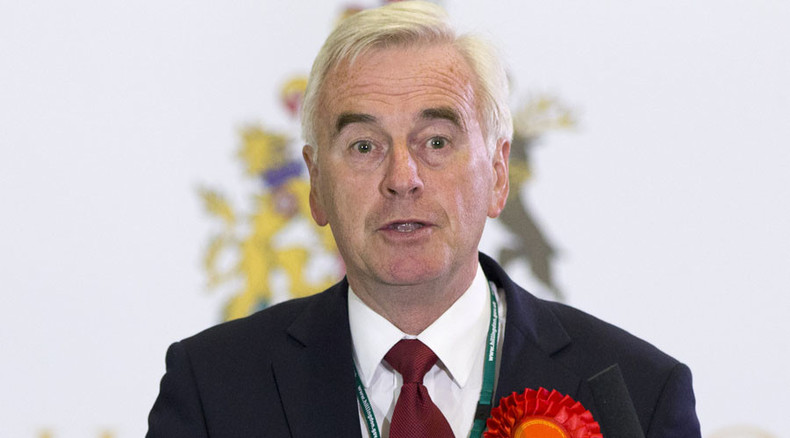 Labour Party leader Jeremy Corbyn will not pursue a British exit from NATO and does not wish to disband the British Army, according to his firebrand Shadow Chancellor John McDonnell.
Speaking Thursday night on the BBC's flagship debate show, Question Time, McDonnell was challenged on both issues by other panelists.
He said it was "not the case" that Corbyn would campaign for a NATO exit and that the lifelong anti-war activist, who chairs the Stop the War coalition, did not want to "disband the army."
Corbyn's views on security and foreign policy issues appear to have been taken up by his opponents, inside and outside of the Labour Party and across the media, as a political tool with which to oppose him.
On Monday, a number of senior Tories, including Prime Minister David Cameron, tweeted the Labour Party had become a risk to national security.
A video applying broadly similar arguments was then posted on the official Conservative Party YouTube channel before being taken down due to copyright issues.
Former Labour Сhancellor Alistair Darling weighed in with his views on Thursday, telling the BBC he still did not understand what Corbyn stood for.
"I didn't vote for him, but he's there. I've been a member of the Labour Party for 40 years and, like all of us, we will do our best," Darling said.
"He is the leader, but so far this week I am bound to say I just do not know where he is going, what he stands for.
"If he really says he can really make a difference, he really does need to say how he is going make a difference. As an ordinary party member, I haven't seen that yet," Darling added.
LISTEN MORE: