Far-fight trolled: US rapper turned to ISIS soldier in parody nationalist meme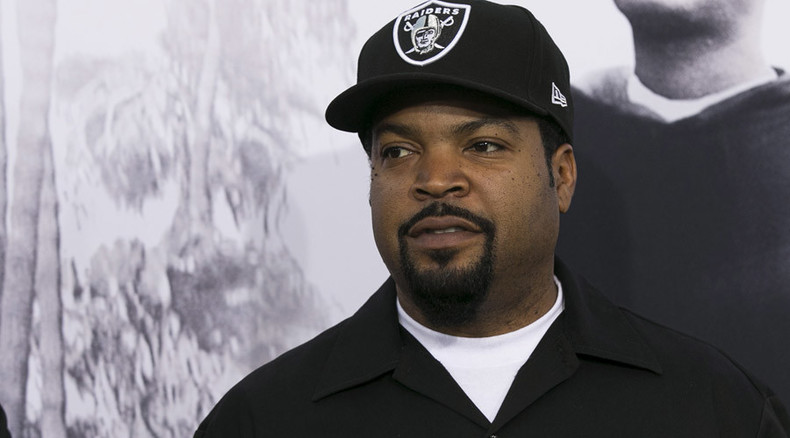 A meme circulating online shows American rapper and actor Ice Cube presented as an Islamic State (IS, formerly ISIS/ISIL) fighter-turned-refugee. The author says although a parody, at least one in ten users who have shared it believe that it is real.
The meme features two photographs of Ice Cube, one in which he sits in a kayak holding a fishing pole with the caption 'Fleeing Syria' and another in which he holds an AK47 with the caption 'Ready for War.'
A paragraph of text above the photographs explains how "this Muslim convert ISIS Soldier" is now living in a block of high rise flats in Balsall Heath, Birmingham.
It reads: "This Muslim convert ISIS Soldier is pictured here on a boat crossing from Syria into Greece on 23/08/15. The second picture is the same Muslim convert ISIS Soldier pictured in a block of high rise flats in Balsall Heath, Birmingham on 13/09/15. They're here. Don't say we didn't warn you!"
The meme bears the stamp of right-wing organizations Britain First and the English Defence League (EDL), both of which promote Islamophobic views.
The photograph of Ice Cube in a kayak is a popular meme which usually plays on the fact a man named 'Ice Cube' is wearing a lifejacket.
And it's not the first collage to combine both the photos of Ice Cube in a kayak and him holding an AK-47.
"The internet never fails to amaze me, ever," the author, Micky Williams, wrote in a Facebook post, adding that "a good 10 percent" of those who reposted his work took it for real and were "in disgust".
"A fair few felt the need to point out that it's Ice Cube, the rapper and actor from America, assuming that nobody else in the world knew," he added.
Ice Cube converted to Islam in the mid-1990s and was allegedly involved with the Nation of Islam, an American religious movement which once claimed Malcom X has a key leader.
In an interview with the Guardian in 2000, Ice Cube denied ever being a member of the group claiming instead he calls himself a "natural Muslim."
"I never was in the Nation of Islam ... I mean, what I call myself is a natural Muslim, 'cause it's just me and God. You know, going to the mosque, the ritual and the tradition, it's just not in me to do. So I don't do it," he said.
Muslims have long been targeted by Britain's far right groups which often seek to portray them as terrorists.
Anti-racism group Hope Not Hate describes the EDL as "a racist organization whose main activity is street demonstrations against the Muslim community."
"Although it claims only to oppose Islamic extremism, it targets the entire Muslim community and its actions deliberately seek to whip up tensions and violence between Muslim and non-Muslim communities."
Britain First is the brainchild of James Dowson who was once a prominent member of the British National Party (BNP).
Hope Not Hate describes Britain First as "probably the only group experiencing growth on the far-right."