Amnesty launches spoof arms trade ad to highlight profits from torture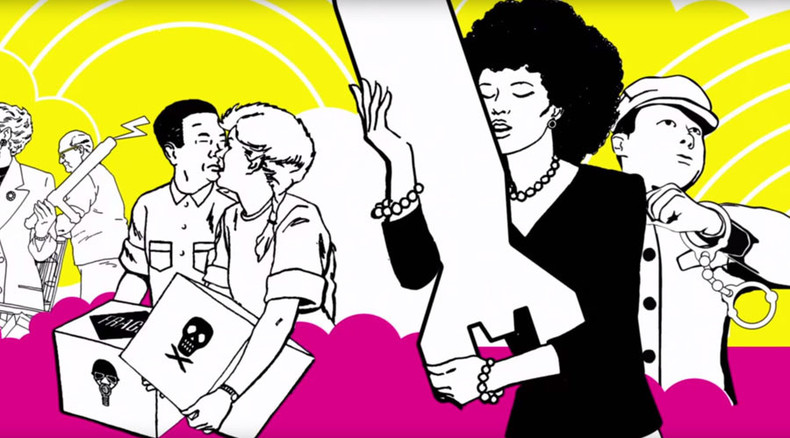 Amnesty International has created a witty ad campaign mocking the international arms equipment fair taking place in London, which includes posters, leaflets and a satirical video.
Launched on Monday, the campaign aims to raise awareness about one of the world's largest arms fairs which will host 1,500 arms traders in London's ExCel center in Docklands and will run over the course of September 15-18.
The charity has billed the posters as "the advertising campaign the government didn't want you to see." It has recruited "gamers-makers" – in the style of the 2012 Olympic Games – to hand out leaflets, placards and lanyards in central London.

Nine companies which have attended the DSEI fair between 2005 and 2013 have breached UK law, Amnesty claims.
At previous arms fairs traders have been able to buy and sell equipment used for torture including electric shock stun guns and batons, leg-irons, and belly-, body- and gang-chains. There has also been a range of illegal cluster-munition weaponry advertised at the fair.
"It has fallen to Amnesty and other campaigners to police illegal activity at the fair, and although the arms companies are subsequently evicted, year after year, that only happens once campaigners alert the organizers," a statement from the charity reads.
They add that despite laws preventing the advertisement of torture equipment, no exhibitors have ever been prosecuted for attending the fair.
Amnesty calls on the Secretary of State for Business, Innovation and Skills Sajid Javid to create an NGO dedicated to tightening controls on arms trading in the UK.
Amnesty International UK Director Kate Allen said the country needs more effective arms trading controls.
"This is the advertising campaign the government didn't want you to see.
"In the past, torture equipment has been on offer right on our doorstep. Things like illegal leg irons and electric-shock batons have been shamelessly advertised and it's blindingly obvious the law needs tightening up.
"We need strengthened laws – and crucially we need proper enforcement – to stop Britain being used as a showroom for torturers to advertise their disgusting wares.
"The guest list reads like a who's who of dodgy regimes. London should be ashamed of playing matchmaker between these companies and countries like Saudi Arabia, Bahrain and Azerbaijan.
"Sajid Javid needs to clean up this arms fair and stop the UK being used as a shop window for torture equipment."