Labour leader Jeremy Corbyn announces shadow cabinet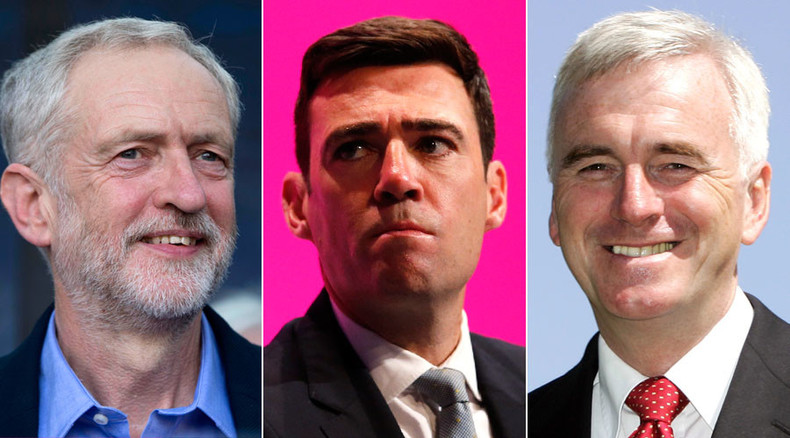 Newly-elected Labour Party leader Jeremy Corbyn has made the first appointments to his shadow cabinet, despite a slew of resignations among former frontbenchers who reject his left-wing agenda.
Amongst the controversial appointments is socialist and staunch Corbyn ally John McDonnell as shadow chancellor.
Corbyn's shadow cabinet also features five men in the top positions, despite a pre-vote promise to fill 50 percent of cabinet roles with women.
Andy Burnham, a fellow leadership candidate who came in a distant second, has been given the post of shadow home secretary, while Hilary Benn accepted the role of shadow foreign secretary.
Tom Watson was elected deputy leader on Saturday.
Other confirmed appointments include Seema Malhotra as chief secretary to the treasury, Diane Abbott as shadow minister for international development and Vernon Coaker as shadow Northern Ireland secretary.
Rosie Winterton will continue her role as chief whip and Ian Murray will continue as shadow Scottish secretary.
Corbyn has already faced backlash for the appointment of McDonnell, with some asking for the leader to appoint Angela Eagle as shadow chancellor. Eagle was instead given the role of shadow first secretary of the state and will act as deputy for Corbyn in the Commons.
Highlighting the criticism, Benn refused to give McDonnell his full endorsement during an interview on BBC Radio 4, but said he "respected" the leader's decision.
"This is the choice that Jeremy has made. I respect the choice that Jeremy has made as leader.
"We have just come off the back of two bad election defeats for the Labour Party, and our principle task is to win the people's trust when it comes to the economy.
"John's first and last task as shadow chancellor will be to win the trust and confidence of the British people in arguing for a different economic policy," he said.
Just before his appointment, McDonnell shared a stage with former Greek Finance Minister Yanis Varoufakis at a Trade Union Congress (TUC) meeting, where he defended Corbyn's imminent announcement.
"I am hoping that within the hour we will have a shadow cabinet put together. As you know, that has been slightly more challenging than the traditional shadow cabinet. It will be as broad-based as we could possibly make it and as inclusive as possible," he said.
Harriet Harman stood down as deputy leader, having served as acting leader since the general election. Corbyn's fellow leadership contestant Yvette Cooper resigned as shadow home secretary, and will now become the head of a taskforce examining the refugee crisis.
Full Shadow Cabinet
Leader: Jeremy Corbyn
Deputy Leader: Tom Watson
Shadow Chancellor: John McDonnell
Shadow Chief Secretary to the Treasury: Seema Malhotra MP
Shadow BIS and Shadow First Secretary of State: Angela Eagle MP
Shadow Home Secretary: Andy Burnham MP
Shadow Foreign Secretary: Hilary Benn MP
Shadow Health Secretary: Heidi Alexander MP
Shadow Education Secretary: Lucy Powell MP
Shadow Lord Chancellor, Shadow Secretary of State for Justice: Lord Falconer of Thoroton
Shadow DFID: Diane Abbott MP
Shadow Northern Ireland Secretary: Vernon Coaker MP
Shadow Scotland Secretary: Ian Murray MP
Shadow Leader of the House of Commons: Chris Bryant MP
Shadow Defence Secretary: Maria Eagle MP
Shadow Work and Pensions Secretary: Owen Smith MP
Shadow Energy Secretary: Lisa Nandy MP
Shadow Secretary of State for the Environment: Kerry McCarthy MP
Shadow Communities Secretary: Jon Trickett MP
Shadow Culture Secretary: Michael Dugher MP
Shadow Secretary of State for Transport Lilian Greenwood: MP
Shadow Secretary of State for Wales: Nia Griffith MP
Shadow Secretary of State for Women and Equalities: Kate Green MP
Shadow Minister for Young People and Voter Registration: Gloria De Piero MP
Shadow Minister for Mental Health: Luciana Berger MP
Shadow Leader of the House of Lords: Baroness Smith of Basildon
Lords Chief Whip: Lord Bassam of Brighton
Shadow Attorney General: Catherine McKinnell MP
Shadow Minister Without Portfolio: Jonathan Ashworth MP
Shadow Minister for Housing and Planning: John Healey MP