Killer drones hunting British jihadists for months, govt admits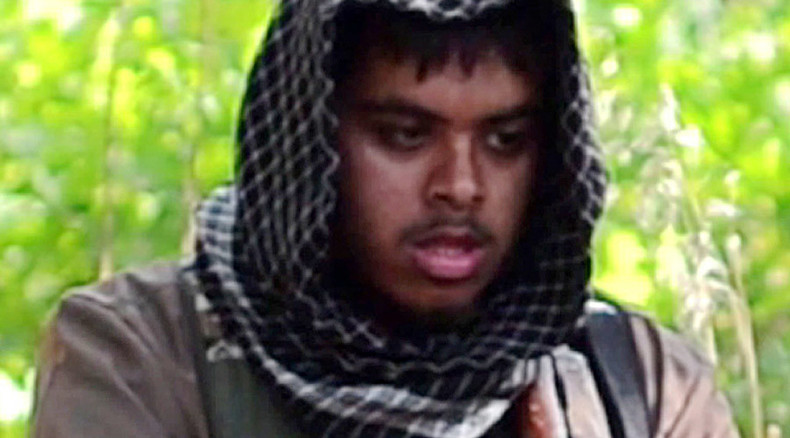 Armed drones hunting British jihadists have been flying over the skies of Syria for months in search of targets on a 'kill list' signed off by Prime Minister David Cameron shortly after winning the general election.
The existence of a 'kill list' was initially denied by Downing Street, but appeared to be confirmed by Defence Secretary Michael Fallon on Monday morning. Jihadi John – real name Mohammad Emwazi – reportedly tops the list.
Cameron announced on Monday that British jihadist Reyaad Khan was the target of an RAF drone strike on August 21. The PM claimed Khan was plotting an attack on British soil, thereby justifying the strike.
Members of the British Muslim community have expressed shock at the attack and are demanding to see evidence that Khan, from Cardiff, was planning attacks in the UK.
The PM confirmed on Monday that two British citizens who joined Islamic State (IS, formerly ISIS/ISIL), Khan and Rahul Amin, were killed in a drone attack which took place on August 21 in Syria. Amin was not the target of the attack, but was travelling in the same vehicle as Khan.
Khan, 21, an IS recruiter who has appeared in numerous videos for the extremist group, was considered to be a "clear and present danger" by the authorities when the attack was authorized.
It is the first time a British prime minister has authorized the targeting of a UK citizen by drone outside a formal conflict. The attacks were approved my Attorney-General Jeremy Wright.
Cameron has come under fire from MPs and anti-war campaigners this week, who accuse him of carrying out extrajudicial killings without the consent of parliament.
It was reported, erroneously, by a number of media outlets in July that Khan was killed in an American drone strike.
The British government previously said unarmed RAF drones were patrolling the skies of Syria to gather intelligence on IS targets, but it has now been revealed the government drew up a 'kill list' shortly after the general election in May.
Fallon said the government would "not hesitate" to carry out further attacks against IS targets.
"They have a kill list, they have plans to mount a series of attacks on Britain and our job is to identify those attacks identify, the terrorists and where we can forestall them," he told ITV's Good Morning Britain.
"But if you're asking me would we hesitate to take similar action again today, tomorrow, next week, absolutely not, we would not hesitate."
The defence secretary said the strikes were legal and planned carefully before being carried out.
"For an attack like this, it was meticulously planned, it didn't happen overnight, it involved hours of surveillance and a great deal of planning to comply with the rules of engagement that we set that there should be no civilian casualties or other damage.
"This attack was successfully carried out and I think we owe a debt of gratitude to those who did it to help keep our country safe."
The British Muslim community has demanded the government produce evidence that Khan was plotting an attack.
"I hope the evidence is much stronger than with the weapons of mass destruction," the secretary-general of the Muslim Council of Wales, Saleem Kidwai said.
"We are not convinced because he was not the kind of charismatic person who could control something like this from far away.
"As news spread around the community the questions are being asked, what information did the intelligence or the government have."
Kidwai added that Khan "was a normal child. What happened, God knows."
The secretary of the Jalalia mosque in Grangetown, Cardiff, expressed disappointment Khan was not brought to justice.
"If a person has done something bad then he has what's coming to him. Anyone who wants to do something wrong must be punished. But I would have preferred to see him tried in a British court," Mokaddus Miah said.
Their comments echo that of Labour leader frontrunner Jeremy Corbyn, who accused the government of acting without parliamentary approval.
"There has to be a legal basis for what's going on. This is war without parliamentary approval. And in fact parliament specifically said no to this war in September 2013," he said.