'Oops, it was us': Military concedes British sub, not Russian, damaged UK trawler in April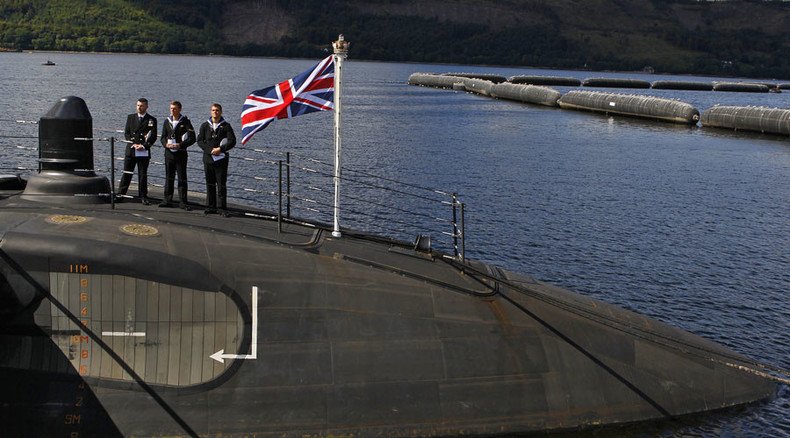 The UK Ministry of Defence admits that a submarine that damaged a Northern Irish trawler in April this year was one of its own, not Russian. Earlier, Fleet Street was awash with speculation that a 'hostile Russian sub' had nearly destroyed the fishing vessel.
"…the RN [the Royal Navy] has now confirmed that a UK submarine was, in fact, responsible for snagging the KAREN's [fishing vessel] nets," Penny Mordaunt, minister of state for the Armed Forces, said in a statement.
The fishing vessel KAREN sustained damage to its nets and deck equipment while in the Irish Sea after it was dragged violently by unidentified vessel.
"It is standing Ministry of Defence [MOD] policy not to comment in detail on submarine operations but, exceptionally, I can say that this incident occurred because the [UK] submarine did not correctly identify the KAREN as a fishing vessel with nets in the water, and thus did not give her the berth she would otherwise have had."
According to Mordaunt, if the British submarine was aware of the incident at the time, "which it was not," then the protocols … "would have required the submarine to surface and remain on scene while the matter was investigated."
She added that the MoD has already contacted the KAREN's owners "to discuss appropriate compensation."
READ MORE: 'Begging' for help: UK asks US to assist in search for Russian sub off Scotland
Before the official statement, British media was abuzz with speculation about which country owned the vessel that damaged the KAREN. Many media reports were certain it must have been a 'Russian submarine'.
"There has been Russian activity. There have been Allied exercises going on, the Russians have been taking an interest in it. The question mark now is what kind of a submarine was it?" Dick James, chief executive of the Northern Ireland Fish Producers' Organization told the Telegraph back in April.
Later, the Mirror in its article "Fishing trawler seconds from tragedy after being dragged down by 'Russian submarine' caught in nets" also cited James.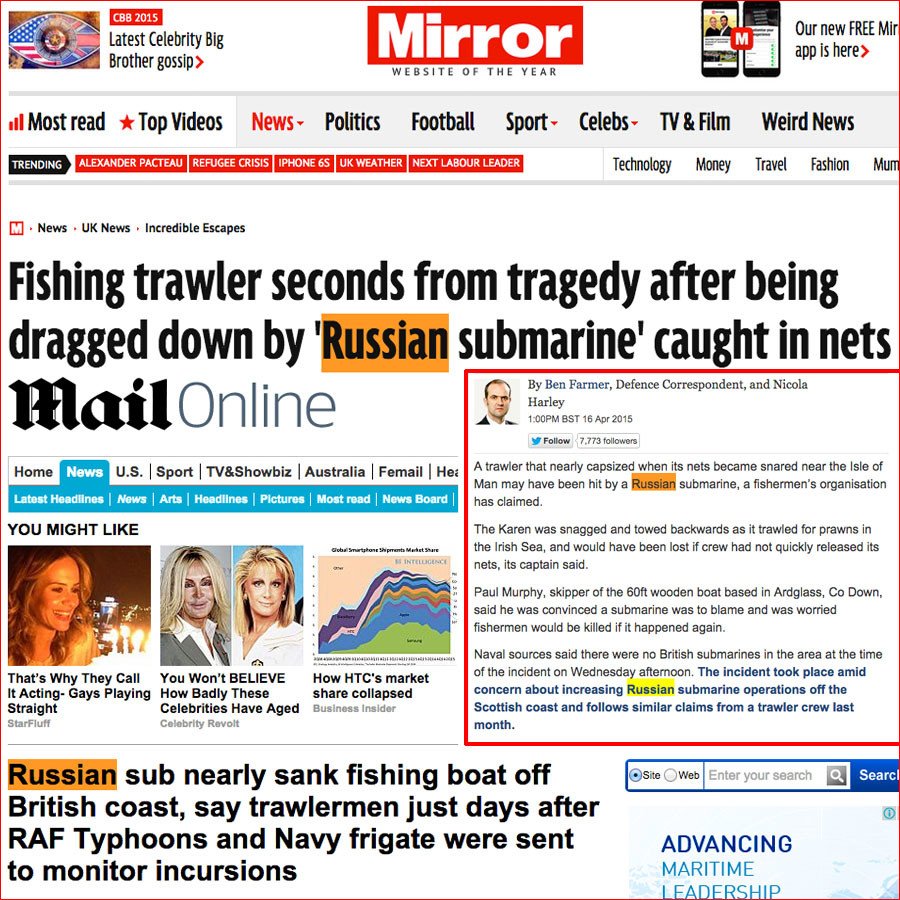 "This [the incident] does raise the possibility of Russian submarines spying in the area," local Councilor Dermot Curran told Down News.
Russian subs have a recent history of being 'spotted' in the waters near European countries. In January this year Britain's MoD was forced to ask the American military for assistance in searching for a Russian submarine off the Scottish coast.
READ MORE: Sweden ready to use force to surface foreign sub as search continues
In May 2015, the Latvian National Armed Forces said they had detected two "Russian warships and a submarine" near their border. In March, they also claimed to have detected two Russian submarines, a research vessel and a destroyer off the Latvian coast.
The biggest-ever search for a 'hostile Russian vessel' was launched by Sweden in October 2014. The 'Big Game' started when Swedish media cited local fishermen and witnesses who said they had spotted a 'Russian sub' near the Stockholm Archipelago.
READ MORE: 2 Russian warships & submarine detected near Latvian border - armed forces
The Swedish Navy's efforts to trace the elusive foreign activity cost €2.2 million (US$2.8 million). Stockholm even announced it was ready to use force if it detected any foreign submarine in its waters.
READ MORE: Finally found? Sunken 'Russian sub' located off Swedish coast
The sub was eventually located, although it wasn't quite what Swedish authorities expected. It was Russian, but dated from the 1900s. The vessel reportedly sank during WWI or WWII, according to experts.
You can share this story on social media: