British man builds helicopter from 54 drones & garden chair (VIDEO)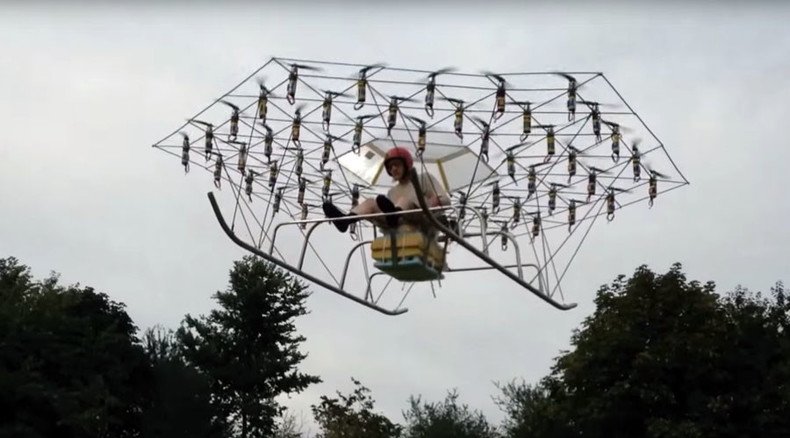 A drone enthusiast has built a home-made helicopter from the parts of 54 unmanned aerial vehicles and posted footage of his test flight online.
YouTube user gasturbine101 has invented a flyable personal helicopter he calls The Swarm Manned Aerial Vehicle Multirotor Super Drone.

The Swarm features a garden chair on a sleigh-like frame with an umbrella over the head of the pilot for protection.
In a video posted online, the man is seen taking off and landing his DIY machine over and over again.

Although he never flies much higher than about fifteen feet in the air, the video demonstrates the helicopter's apparent ease of control.
According to the YouTube page, The Swarm cost about £6,000 to build and is powered by four cell batteries.

He writes: "The Swarm man carrying multi-rotor airborne flight testing montage. 54 counter-rotation propellers, six grouped control channels with KK2.15 stabilization. Take-off weight 148kg, max lift, approx. 164kg. Endurance 10 minutes. Power approx. 22KW."

He ends his description by observing there is a major flaw in the design of the vehicle.

"That is the large number of props running at high speed means the net torque reactions are relatively low, so the craft has little yaw authority. So it probably needs a tail rotor for spot turns."
You can share this story on social media: