Britain should not engage in foreign military intervention without UN backing – Corbyn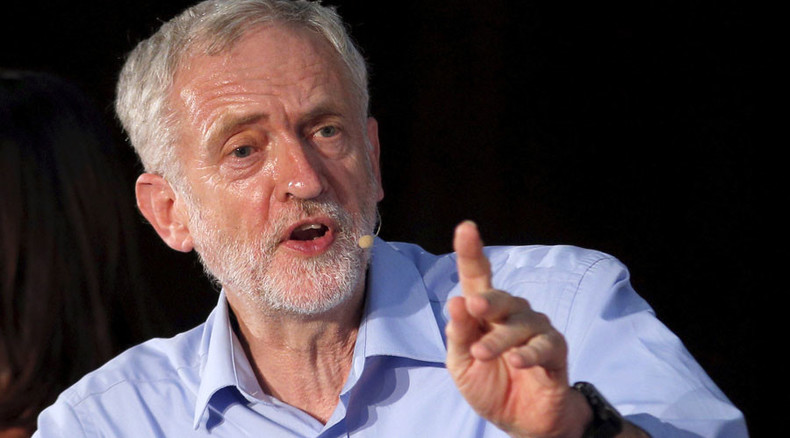 Labour Party leadership frontrunner and anti-war advocate Jeremy Corbyn says armed intervention by British forces in foreign states should only occur in circumstances where it is approved by the United Nations (UN).
The veteran Labour MP, who campaigned stringently against Britain's role in the 2003 Iraq War, insisted he cannot imagine circumstances in which he would back such military intervention.
Corbyn made the remarks during the final leadership debate before the ballots close on September 10. His performance in the debate provoked loud cheers from the audience, while a Sky Pulse survey of 8,000 people afterwards found he had scored 80.6 percent of the vote.
Blairite rival Liz Kendal scored 9.1 percent, while New Labourites Andy Burnham and Yvette Cooper scored 5.7 percent and 4.6 percent respectively. The news broadcaster later claimed the poll was not scientific.
As foreign policy took the discursive center stage, each of the leadership hopefuls rejected the proposal of dispatching British soldiers to tackle Islamic State (IS, formerly ISIS/ISIL) forces on the ground. But Corbyn went further, insisting he would struggle to imagine any circumstance where he would back the deployment of UK armed forces abroad.
Challenged by Kendall on whether any circumstance might change his view on this, Corbyn responded: "Any? I am sure there are some. But I can't think of them at the moment."
Corbyn's opposition to foreign military intervention could block Prime Minister David Cameron from seeking parliamentary approval to extend airstrikes against IS targets into Syria.
In late August, Corbyn said he would issue an apology for the 2003 invasion of Iraq if he is elected leader of the Labour Party.
Corbyn insisted the invasion had been undertaken "on the basis of deception," and had lost the party millions of voters.
"It is past time that Labour apologized to the British people for taking them into the Iraq war on the basis of deception and to the Iraqi people for the suffering we have helped cause," he told the Guardian. "Under our Labour, we will make this apology."
The leadership debate, which was broadcast live on Sky News from Gateshead, North West England, came to a close with a heated exchange between Corbyn and rival Shadow Home Secretary Yvette Cooper.
Cooper, who is not predicted to win the race, sharply criticized Corbyn's pledge to introduce "people's quantitative easing," warning it would drive up inflation, bolster Britain's debt burden and give the electorate false hope.
The shadow home secretary had previously described his proposal to introduce the economic policy shift as "private finance on steroids."
Corbyn's economic policy prescriptions have attracted heated criticism from Blairite Labour politicians and those who back the "austerity-lite" policies of outgoing leader Ed Miliband.
Cooper's criticism of people's quantitative easing was echoed by Labour's shadow chancellor Chris Leslie in August, who argued Corbyn's "starry-eyed, hard left" economic strategies were doomed to fail.
But UK economist and tax justice campaigner Richard Murphy defended Corbyn's proposals, stressing people's quantitative easing differs markedly from quantitative easing as it is traditionally understood.
The quantitative easing employed by UK governments from 2009 to 2012 did not see funds flowing into Britain's "productive economy," but rather into "house price and asset speculation," Murphy said at the time.
Under Corbyn's policy, however, debt would be repurchased deliberately and issued by councils, health trusts or a green investment bank for the purpose of funding new forms of investment.
If Corbyn wins shouldn't assume a Blairite will follow. A more telegenic, Sturgeon-like figure is likelier. Labour membership has changed.

— Tim Montgomerie ن (@montie) September 4, 2015
Murphy argued that such an approach is vital in an economic climate where financial markets and big business are failing to deliver the level of investment Britain needs.
He said the funds freed up by "people's quantitative easing" would not be funneled into asset speculation and drive up inflation because banks would be excluded from the loop.
Speaking in Thursday's debate, Burnham warned Labour is in danger of repeating "mistakes of the 1980s," when its internal fissions cleared the political playing field for the late-Conservative PM Margaret Thatcher.
Kendall conceded that supporters of former Labour Prime Minister Tony Blair had allowed themselves to be portrayed as hungry for victory. Corbyn was also deeply critical of the European project, warning the European Union (EU) is "increasingly operating like a free market."
Ex-Labour leader Ed Miliband is unlikely to return to the party's frontline, sources say. The fallen Labour chief is expected to announce his intention to campaign on environmental and inequality issues as a backbench MP in the coming days.
You can share this story on social media: