Tony Blair could face grilling for 'trying to save Gaddafi' during Libya war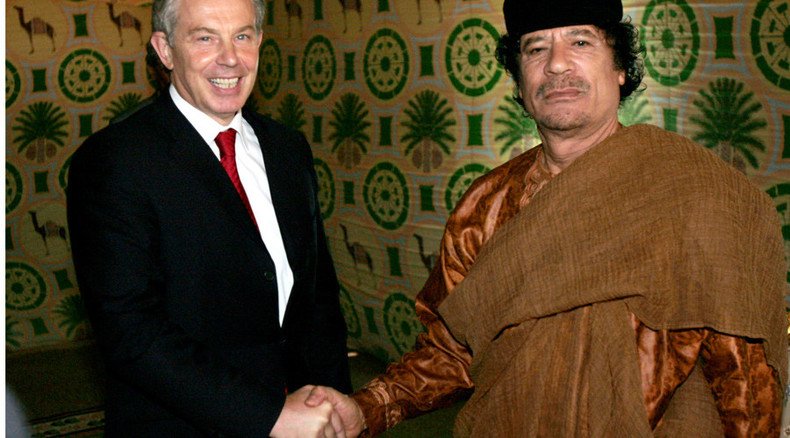 Former Prime Minister Tony Blair could be summoned before MPs to face allegations he offered to help rescue Colonel Gaddafi during the 2011 NATO-led military campaign against Libya.
A forthcoming biography of Prime Minister David Cameron claims Blair telephoned Downing Street during the Libyan war to explain he had been contacted by "a key individual close to Gaddafi."
Blair allegedly told the PM's office the Libyan dictator wanted to "cut a deal" with Britain, but Cameron did not take up the offer.
Former Foreign and Defense Secretary Sir Malcolm Rifkind said Blair should face questions from MPs over the claim.
"There is no reason at all why [MPs] shouldn't pursue it," the Conservative minister under John Major said.
He added that while he thought it was "entirely reasonable" for Blair to pass a message on from Gaddafi, it was not Britain's place to negotiate a deal with the Libyan leader because it was an international military campaign.
"The actual rising against him was not initiated by Britain or the United States. So any deal that Gaddafi wanted to do really was not a matter for the British government or the American government," he said.
Tory MP Nadhim Zahawi echoed Rifkind's comments, telling the Times that Blair "clearly felt that it was an important thing to communicate to No 10." He added, "If this is true then we need to better understand what happened."
Conservative MP Daniel Kawczynski responded angrily to the claims, accusing Blair of indulging a "sordid" and "irresponsible" idea.
Scottish National Party (SNP) MP Stephen Gethins said the claims raised serious questions about Blair's links to the Gaddafi regime.
"People will be appalled that a former prime minister saw fit to lobby on behalf of a dictator," Gethins, who is also a member of the Foreign Affairs Committee, said.
Foreign Affairs Committee chair Crispin Blunt said he would like to question the former prime minister as part of an inquiry into the Libya campaign.
Blunt told the Times the committee would like to know about the infamous "deal in the desert" made between Blair and Gaddafi in 2004, in which the Libyan dictator allegedly agreed to renounce terrorism in exchange for lucrative oil contracts.
"Any inquiry would have to have a look at that, and then the suggestion that he made an intervention during the course of 2011 certainly strengthens the case for having him come and give evidence," Blunt said.
He emphasized the committee would avoid "rushing to judgment" on Blair's historical actions.
The claims emerged in a new biography, titled Cameron at 10, by Sir Anthony Seldon, who has also written biographies of previous Prime Ministers Tony Blair, Gordon Brown and John Major.
The biography includes claims that former Chief of the Defense Staff Lord Richards of Herstmonceux considered Cameron's campaign to oust Gaddafi "half-baked."
Following a February 2011 rebellion in eastern Libya, and a crackdown by the government, the United Nations adopted Resolution 1973, authorizing a no-fly zone in the country.
NATO later expanded its operations to include direct air support to rebels. As a result of the seven months of airstrikes and other support for the uprising against Gaddafi, he was ousted from power and subsequently killed by rebels in October 2011.
Gaddafi's government was replaced by a collection of tribal leaders, which quickly descended into infighting.
At present, Libya remains in turmoil, with two separate governments claiming to be legitimate. The unrest also triggered a spike in the numbers of refugees seeking asylum in Europe.
LISTEN MORE:
You can share this story on social media: