If Surrey was Syria: Charity stages war scenarios in suburbs, films public reaction (VIDEO)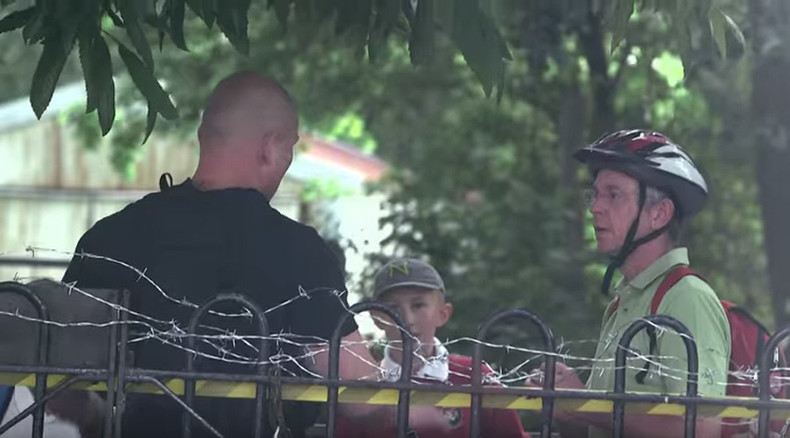 Suburbanites in affluent Surrey were met with police roadblocks, closed schools and empty shelves when charity Save the Children filled the streets with crisis scenarios designed to mimic war-torn Syria.
The stunts, caught on secret cameras, showed public reactions to the closure of schools and roads and emptying of shops in the area, leaving residents believing they had no access to food, schools or medical care.
Save the Children said the public's reactions showed that British citizens reacted "instinctively" to breaches of human rights, "some even risking their own safety for the sake of strangers."

One mother, whose daughter's school had been temporarily closed, told the charity the stunts had made her think about the need for public awareness.
"The gates were shut. I thought, why can't my children go to school? I am getting emotional thinking about it. It made me realize that we do need to be aware, and make our children aware, of what is going on," she told the charity.

Their video aims to highlight the plight of Syrians who face restricted access to vital services every day.

Other stunts featured an ambulance being stopped on the street by "guards" at a "checkpoint" and shops with bare shelves.
All the stunts were performed by actors with Surrey Police on site to ensure the scenarios were managed safely.

"The daily exodus fleeing the brutal Syrian conflict has reached 4,000 refugees every day this year and half of them are children. Syria's deadliest summer yet has sparked a global refugee crisis, with Greece experiencing a refugee influx which has skyrocketed 750 percent compared with last year, with two thirds of them from Syria," Save the Children said.
READ MORE: American taxpayers spend nearly $10 million a day fighting ISIS

The war has seen 11 million people flee the country, with 420,000 still living under siege in Syria.

"A tiny fraction of Syrian refugees make it to Europe. The poorest, the sick and the elderly remain under siege, barrel-bombed, gassed and shot, starved of food and medicine," said Save the Children CEO Justin Forsyth.

"Despite the generosity of the UK government and others, more widely, money to assist millions living in refugee camps is drying up. These families now face an extreme choice, to return to a war zone or risk drowning as they are smuggled into Europe. If the average European citizen would not stand for being cut off from food, healthcare and schooling, why should Syrian families?"

The charity is calling on wealthier nations, including the UK, to take more refugees, and for the UN to use its weight to provide access to communities under siege so they can receive aid.