House of Frauds? Cameron dishes out peerages to expenses scandal MP, City banker & Tory cronies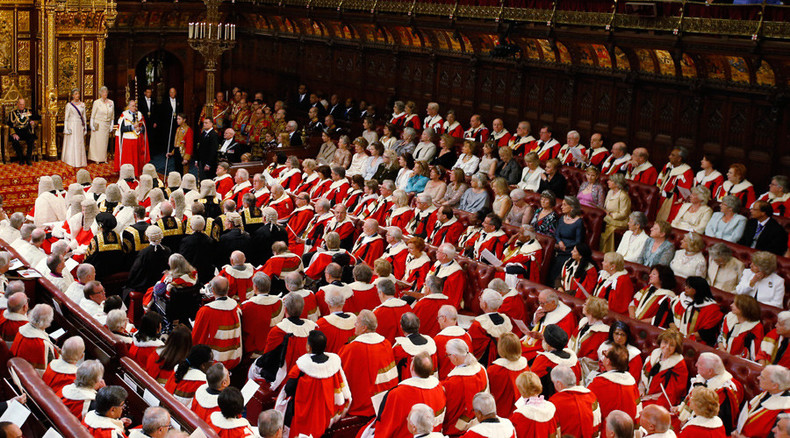 A disgraced Tory embroiled in an expense scandal, a multimillionaire donor, and a slew of political cronies have been handed peerages by Prime Minister David Cameron, sparking fresh demand for drastic reform of the House of Lords.
Cameron was accused of an assault on democracy on Thursday after he gave peerages to 26 Conservatives, and offered knighthoods and a string of other honors to political friends.
Public frustration over mounting costs in a climate of austerity had previously forced him to pledge to tackle the size of the House of Lords.
However, critics warn he has handed out new peerages at a faster rate than any prime minister since Harold McMillan in 1958.
Cameron has literally appointed Hogg to the Lords. He's just bantering with impunity now. This is what happens when you have no opposition.

— Janan Ganesh (@JananGanesh) August 27, 2015
The prime minister's dissolution honors list included a string of political heavyweights such as ex-Foreign Secretary William Hague, ex-Labour Cabinet minister David Blunkett and former Liberal Democrat chief Menzies Campbell. However, these high-profile politicians were vastly outnumbered by controversial MPs, political cronies and friends of the Conservative Party.
New peers include disgraced ex-Cabinet minister Douglas Hogg, who resigned from the Commons in 2010 in the wake of controversy over his expenses. He stood accused of billing British taxpayers £2,200 to clean his moat, which ran around his historic 13th-century estate.
Other expenses claims he filed included the cost of tuning his piano and a £670 charge for the services of a mole catcher.
Hogg, who inherited the title of Viscount Hailsham, denied all wrongdoing at the time – insisting his claims for maintaining his garden did not factor in moat clearance. As a member of the House of Lords, Hogg is now eligible to pocket £300 in expenses each day simply for turning up at parliament.
Other controversial inclusions on Cameron's list were a City banker who donated millions to the Conservative Party, the CEO of a firm criticized several months ago for failing to pay its staff the minimum wage, and a high-profile entrepreneur who founded a lingerie company.
Cameron's appointments sparked widespread outrage, with a chorus of critics demanding root-and-branch reform of the House of Lords.
Lawyer and academic Lady Deech told the BBC a statutory appointments commission should be set up to ensure "donors and bag carriers" are not awarded such honors.
Scottish National Party MP Kirsty Blackman also condemned Cameron's list of appointments, describing it as "an affront to democracy."
"This is a sorry list of rejected and retired party politicians – cronies and hangers-on with big check books," she said.
"It is an affront to democracy that politicians whose parties have been roundly rejected by the electorate can then reappear in parliament a few weeks later and legislate for the rest of their lives without ever having to be accountable again."
Cameron and Chancellor George Osborne also honored a group of allies and friends for their longstanding loyalty. The PM's so-called gatekeeper Kate Fall, who handles his political diary, received a peerage, as did his old boss Andrew Lansley and a group of his political advisors.
Cameron's campaign manager, who is also a Conservative District Councilor for North Leigh, was knighted, while Osborne's ex-chief of staff was awarded the title Commander of the Most Excellent Order of the British Empire (CBE).
The PM's old political advisor James O'Shaughnessy was handed a peerage, while his local constituency office manager Caroline Balcon and a group of other aides also were also honored.
Conservative Party vice-chair, Kate Rock, who has hosted Osborne in her ski chalet in the Alps, was also given the accolade of Baroness – while a further string of Osborne's aides were honored.
Critics have compared Cameron's appointments with former Prime Minister Harold Wilson's controversial "lavender list," which drew sharp criticism in 1976.
Downing Street defended Cameron and Osborne's appointments, however, arguing that only 31 percent of peers in the House of Lords are Conservatives. Seven nominations for peerages, five of which were tabled by the PM, were rejected.
The Labour Party, currently headed by interim leader Harriet Harman, handed out eight peerages, while the Liberal Democrats handed out 11 – despite having a mere eight MPs in the Commons.
The latest House of Lords annual report says the controversial chamber's operating costs came to £94.4 million in 2014-15. Of this sum, a startling £20.7 million was spent on members' expenses and allowances.
Members of the House of Lords who can demonstrate that they have carried out "appropriate parliamentary work" in Westminster are entitled to a tax-free allowance of £300 each day.
If they are not in Westminster or abroad on official visits, they can still claim £150 a day.
You can share this story on social media: