1 in 65 in UK adults now a millionaire – while rich-poor gap widens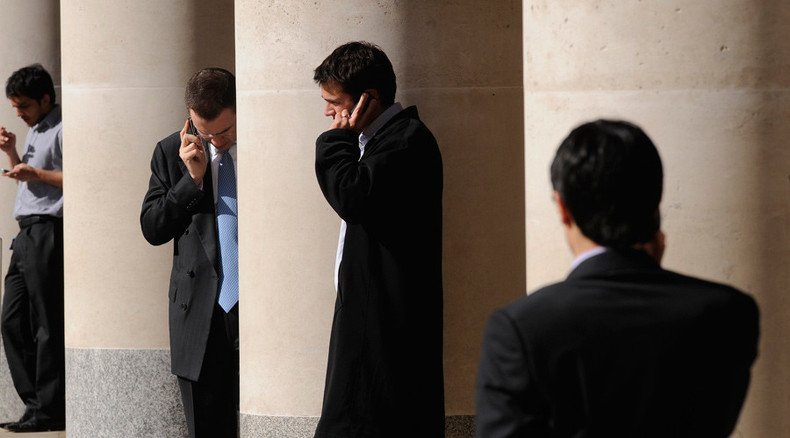 Britain now boasts 41 percent more millionaires than it did five years ago in a climate of soaring inequality, rising house prices and in-work poverty.
One in 65 British adults is now categorized as having a seven-figure fortune amid rising house prices and stock market gains, new data from Barclays reveals.
The bank's prosperity index also shows that almost 50 percent of Britain's new millionaires since 2010 reside outside London and the southeast of England.
Reading, Cambridge and Birmingham were found to be the most prosperous urban centers outside of Britain's capital, while the east of England was found to be the third most affluent area.
Bristol was ranked the UK's fifth most prosperous city, while Newcastle was ranked 10th most affluent urban center.
There are more millionaires in Britain than ever before (715k). Number rose by 200k in five years. Because: house prices. Alright for some!

— Lamiat Sabin (@LamiatSabin) August 27, 2015
Surging house prices, hefty returns in equity markets, higher executive pay and increased employment have created more millionaires in the wake of Britain's economic recovery, the Barclays research claimed.
Despite the rise in affluent Britons since 2010, the bank's analysis predicted the growth in millionaires would slow again in the long term, with a 9 percent increase expected by 2025.
Barclays' research follows a number of recent reports that highlight growing inequality and poverty in the UK.
The richest 10 percent of households in Britain are currently estimated to own 44 percent of the state's household wealth.
A report released in July by a leading think tank examined key factors driving changes in incomes and poverty across the UK.
The research, titled 'Living standards, poverty and inequality in the UK: 2015,' was published by the Institute of Fiscal Studies (IFS) and funded by the Joseph Rowntree Trust.
It said a dramatic rise in Britain's working poor was a result of high unemployment levels and a steady decline in workers' real wages.
2000+ people about to die sanctioned and declared fit for work, while no of millionaires in Britain rises by 41% in 5 years. Great news day.

— Jenny Niven (@jennyniv) August 27, 2015
Joseph Rowntree Foundation CEO Julia Unwin said at the time that in-work poverty is a growing concern in Britain.
"A strong economy and rising employment have masked the growing problem of in-work poverty, as years of below-inflation wage rises have taken their toll on people's incomes," she said.
"The upcoming minimum wage rise will help, but many low-income working families will still find themselves worse off due to tax credit changes. Boosting productivity and creating more jobs which offer progression at work is vital to make work a reliable route out of poverty."
In May, Britain was labeled the "European capital of inequality" after a report found the gap between rich and poor was the biggest in the EU.
The research, titled "Recent Developments in the Distribution of Wages in Europe," scrutinized data from 2004 to 2011 – the period before and after the onset of the Great Recession.
It found that the UK had the highest Gini coefficient of any EU member state – higher than that of the US. The coefficient is a widely used measure of income distribution within a nation, and is often used to calculate inequality.
You can share this story on social media: