Can't pay? Cash-starved councils call in bailiffs to collect 2.1mn debts a year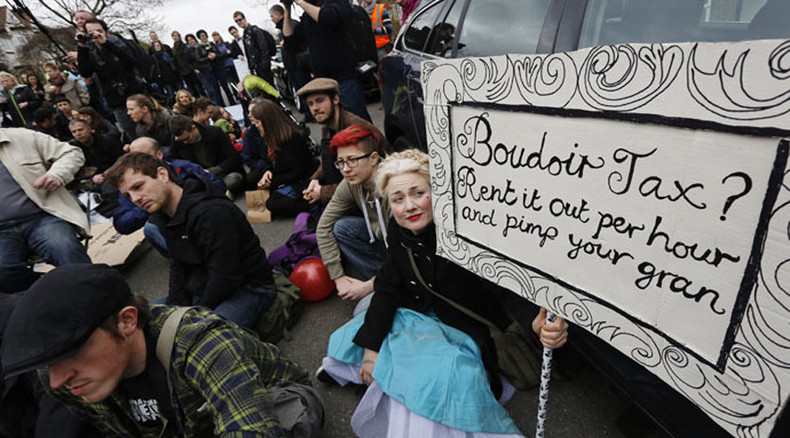 Austerity-hit local authorities across the UK are increasingly turning to bailiffs to chase people who have not paid their council tax or parking fines, with a 16 percent rise recorded over the past two years.
Debt charity Money Advice Trust (MAT) said in a report Thursday that councils resorted to sending in the bailiffs to collect debts from households on 2.1 million occasions in 2014/15.
MAT collected the data by submitting Freedom of Information (FoI) requests to every council in England and Wales.
According to a spokesman for the charity, local authorities have not kept up with the changing methods of debt collection.
The FoI requests found that in 2014/15 council tax debts accounted for 1.27 million collections, while there were also 715,000 collections to recover parking-related debts.
Enforcement agents, as bailiffs are also called, were also used to get benefit overpayments reimbursed and to collect business and commercial rates.
London's Borough of Barking and Dagenham was discovered to be the heaviest user of bailiffs relative to its size, employing their services on 34,041 occasions during 2014/15. Seven other London boroughs were also in the top 10.
Mid Devon Council reported the largest increase in the use of bailiffs over the last two years, with the authority using bailiffs 69 times more than in 2012/13.
A spokesman for MAT said local councils are behind the times in the way they collect late payments.
"The way the private sector, such as banks and credit card and even utility companies, collect their debt has totally changed," he said.
"They have invested a lot of time and energy in looking at debt collection. They will look at affordability and will often enter into repayment schedules."
By comparison, "local authorities have just been left behind," he said. "They are far too quick to call on the bailiff."
MAT's chief executive, Joanna Elson, said the use of bailiffs can often make debt problems worse, rather than fix them.
"Something is seriously wrong here," she said. "On the front line of debt advice we know that sending the bailiffs in can deepen debt problems, rather than solve them – and it can also have a severe impact on the wellbeing of people who are often already in a vulnerable situation."
She added: "Bailiff action is not only harmful to those in arrears – it is also a poor deal for the council taxpayer. Our research shows that those local authorities that use bailiffs the most are actually less successful, on average, at collecting council tax arrears. This is a lose-lose situation."
Elson said councils should focus more on preventative measures, such as earlier detection of tax arrears and support for people who fall behind in payments.
"Our message is clear – bailiffs should only be used as an absolute last resort, and the earlier residents and business owners who are struggling can be signposted to free sources of advice such as National Debtline and Business Debtline, the better," she said.
Local Government Association chair Clare Kober said reduced funding for council tax support had left councils struggling to plug a funding gap of £1 billion by 2016.
"Councils have a duty to their residents to collect taxes so important services like caring for the elderly, collecting bins and fixing roads are not affected. But we realize that times are tough and will always seek to take a sympathetic and constructive approach," she said.