'Disaster waiting to happen': Charlotte Church sings in protest against Shell's Artic drilling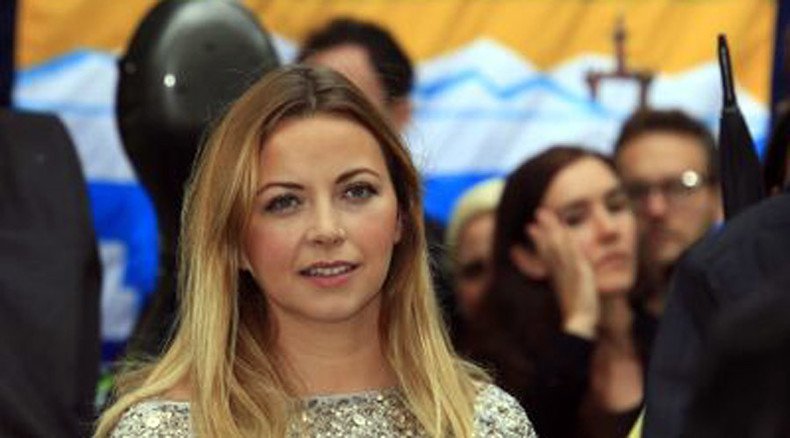 Welsh songstress Charlotte Church performed a soulful live rendition of "Requiem for Arctic Ice" outside Shell's headquarters in London on Wednesday to protest the energy giant's attempts to drill for oil in the Arctic. 
The action, which occurred outside Shell's offices in the South Bank area of central London, was part of Greenpeace's month-long series of orchestral protests against Arctic drilling.
"Requiem for Arctic Ice"was inspired by the poignant tale of a string quartet that continued to play as the Titanic sank after colliding with an iceberg in 1912. Its creators hope the music will push Shell's employees in Britain to ask their managers to revise their plan of drilling in the Arctic Ocean.
Speaking outside Shell's headquarters on Wednesday, Church – who in June was a prominent celebrity protester on a 250,000-strong march against austerity in London – said humanity's impact on the planet is terrifying.
"I can't see how anyone could see footage of the Arctic melting and not feel moved," she said.
"This song just felt so appropriate to why I came here today. I wanted to capture the sorrow and regret that feels tied up with the melting ice, and the bitter irony of Arctic oil drilling."
Shell is risking a catastrophic oil spill in the Arctic's icy waters for the duration of its drilling operation there, Greenpeace says. Extreme conditions in the Arctic, including stormy waters and large free-floating icebergs, make offshore drilling there very risky.
The US administration previously conceded there is a 75 percent chance a large oil spill will occur throughout the drilling operation. Scientists say such a spill would severely endanger local wildlife and be impossible to clean up.
Shell received the last permit it requires to begin drilling in the Arctic in mid-August. But with billions of dollars at stake, it only has several weeks to locate oil before it must withdraw from the pristine region.
Church's live recording has been made available online to download to raise awareness about the dangers of drilling in the Arctic.
Addressing crowds gathered outside Shell's offices in central London, the Welsh songstress and political activist expressed deep concern over the energy firm's plans to drill in the Arctic.
"I can't believe the risks that Shell is willing to take. The Arctic ecosystem is already weakened because the ice is melting, yet Shell is willing to risk an oil spill there that they wouldn't be able to clean up," she said.
"It's a disaster waiting to happen."
Environmentalists warn climate change is causing Arctic sea ice to melt rapidly with the region experiencing the lowest sea ice maximum on record in March. The US National Snow and Ice Data Centre (NSIDC) said at the time that the ice covered just over 14.5 million square kilometers of the northern seas at its peak – 130,000 square kilometers less than the previous lowest maximum in 2011.
However, as the ice continues to recede, oil and gas reserves nestled beneath the Arctic Ocean have become more accessible to energy firms.
Shell previously attempted to drill in the Arctic in 2012, but experienced many operational problems in the process. The venture was eventually abandoned after its rig ran aground. Shell is still working alongside Noble Drilling, which pled guilty to eight separate offenses after Shell's last drilling venture in the Arctic. The negligence of another rig contractor Shell is working with was found to have contributed to the 2010 Deepwater Horizon spill in the Gulf of Mexico.
Shell is facing mounting global pressure over its plans to drill in the Arctic. Former US Vice President and environmental campaigner Al Gore, former US Secretary of State Hillary Clinton, and the Archbishop of Canterbury have all expressed concern about the prospect.
Additionally, high profile arts and entertainment figures such as Peter Capaldi, John Hurt and Maisie Williams have spoken out against Arctic drilling.
Fears over Shell's drilling plans have also been highlighted in recent months by a "kayaktivist" protest movement, which began in Seattle on the US Pacific Coast, and has spread to Canada and Europe. The environmentalists stage creative protests in kayaks and small boats to raise awareness about the ecological catastrophe Shell's Arctic drilling could cause.
Shell has so far spent $6 billion and is expected to spend a further $1 billion in the coming year on Arctic oil exploration.
LISTEN MORE:
You can share this story on social media: